Candle Pattern
ES
15min. @ 8:30
bear harami
/ 9:15 bear engulf / if we
close above could be a further move up
Click image for original size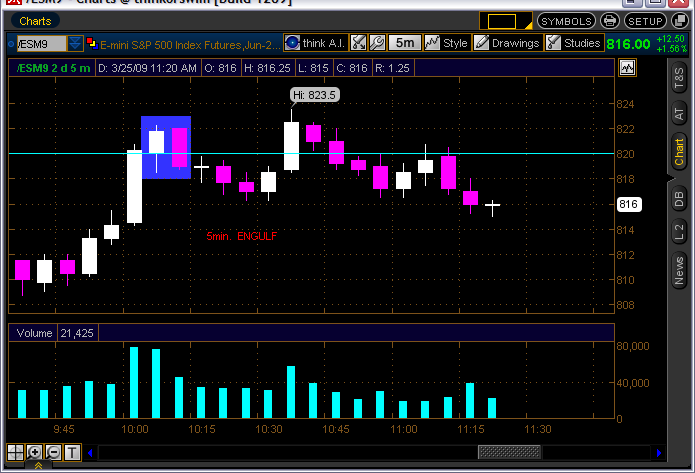 Being a 5min. pattern I have to be careful. The trade above
yesterday high (blue line) and then close right back below the next candle made it bearish for me. At 10:35am this same area was
resistance. As Bruce said the volume spike gave a hint.
Covered half @ 1248...SL on the rest at flat plus one
tick
for my broker. The way the 30 min looks its going to roll over or hang out at the highs. I don't mean to be vague.... I am still short the
ES
from monday, though I got out and got a much better price yesterday avg 818 but I am about to my
uncle point
time wise. I have not been in a trade this long since 2007 I remember it well
sometimes I blend candles. If you blend the 5min. engulf in the chart above,
it would look similar to the 12:05 5min. candle. The shadow @ top = bearish.

ES
has closed under some important areas. It may move back up some
but in the long run I think we go some lower. IMHO
-100% projection 782.50 / high volume area 780.25 / I'am (hoping?) it
will move up to the 93.00 area and then move back down to my projection
Have a great rest of the week and weekend. I'am going to be
in and out for the next several days
quote:

---

Originally posted by BruceM

I imagine you would Red.......looked like a "smooth" ride..

quote:

---

Originally posted by redsixspeed

I don't have the RedSixSpeed anymore and I miss it....


---




---
Yup; I have a 4dr. white granny car now. Need to ask
D.T. if I can change my name from redsixspeed to granny.
Quote from Steve Nison book
Beyond CandleSticks
pg.55 "the psychology of the market
participant,the supply and demand equation, and the relative strengths of the buyers
and sellers are all reflected in the one candlestick or in a combination of candlesticks"
You must use other technicals to confirm a candle pattern.
Have a great trading day!!
I don't trade with MAs ... but recently I started looking at them .. I have set up a quad chart with different time frame of MAs .. Today at 11:30am et. all four MAs came together and in fact price hit them about the same time .. I just got started with this so I'll post what I see from time to time .. looks good so far .. My intent is to use them as a confirming tool not a primary ...