Candle Pattern
ES
15min. @ 8:30
bear harami
/ 9:15 bear engulf / if we
close above could be a further move up
Thanks blue;
I didn't make clear and I should have. The 906.75 area is where I thought
the market might find a holding area from my prior projections until release of the
fomc
.
It should read "a key projection area"
With many different types of pivots it is an issue with me to determin where a good
PP
is. So I look at three areas.
The
PP
areas shown in this chart are what I see for Monday 8/3/09
Click image for original size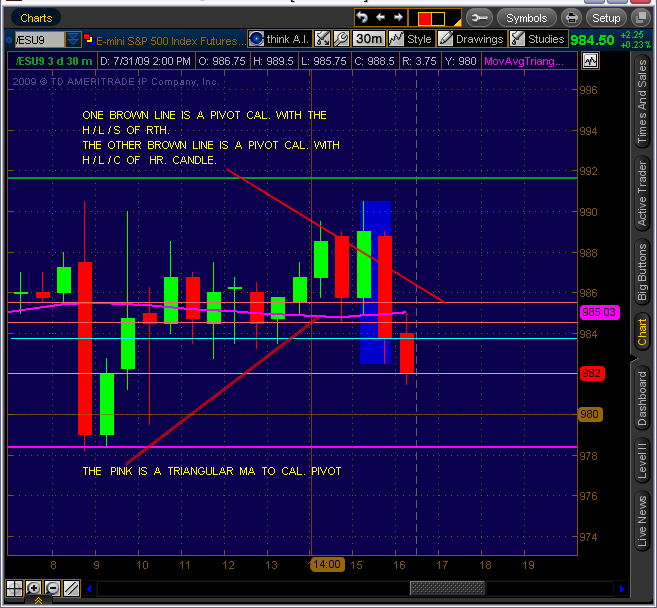 Candle Theory says the mid point of a dominate candle can be an
s/r
area. The daily candle
of 8/3 (mid point) is 991.75, as always I allow for stops which brought me to 990.25 for today 8/11.
The daily candles of 8/4 - 8/5 are hanging man patterns meaning (bearish) the candle
pattern formed by the two candles of 8/6 - 8/7 form an engulfment (after an up trend
is called a "last engulf") that did not close strong above the hanging man pattern.
On 8/10 another hanging man. To confirm the bearish strength of the hanging man we need
a close below its real body which we got today. This is set to turn down unless some
news event changes the mind of the market
Today 9/17/09 1:45am
ET
See the mid point of that 5min. candle act as resistance @ the 67.00 area then
move down to 1062. As I type we are moving back to that area. If we break thru
it should act as a support.
I received an e-mail from AmmoTrader that said they trade 10min. candles. I trade candle patterns not just the bar.

What is the advantage of the 10min. candles
Any input is much appreciated

I don't trade with MAs ... but recently I started looking at them .. I have set up a quad chart with different time frame of MAs .. Today at 11:30am et. all four MAs came together and in fact price hit them about the same time .. I just got started with this so I'll post what I see from time to time .. looks good so far .. My intent is to use them as a confirming tool not a primary ...