eminiviper.com
I started this topic because some questions I asked and answers I got from cba33558 were getting lost in this rather extensive topic here:
http://www.mypivots.com/forum/topic.asp?TOPIC_ID=2300&whichpage=30
We started this discussion on page 30 of that thread, and I thought I'd move it here so we can continue it (since no one took me up on my offer to start this thread). I'll cut and paste the three posts made after cba33558 posted a chart about eminiviper.com
From 6/8/09:
jimkane: Hey, cba. I checked out that EminiViper.com page. Very impressive. Seems like they don't have any losing days, or even losing trades (or do they not post those?). Is that so? If not, how many stop outs or false signals are you seeing on an average day? It doesn't mean much to me to see winners, I am more interested in the losers I have to take to get those winners. Also, are you the owner of EminiViper.com, or do you work for them? If not, what is your association? If I don't ask, that will likely be the first question from everyone else. Thanks.
cba33558: Hey Jim -
Thanks for visiting the Web site and offering your constructive questions and feedback...
The videos are intended to show the
NQ
Emini trades that are triggered by the system each day. Currently the system is designed to issue trade signals only the Nasdaq Emini. In addition to the Viper indicator, the system uses a combination of guidance charts and a trading chart that very rarely has a losing trade. With all of these constraints, it should be noted however, that there are not many signals that trigger in any given trading day. Depending on the volatility - usually one or two trades may trigger - a busy day would be 3 trades.
The entire trading system is not shown in the videos; however, all of the details regarding these trade signals are shown in an eBook and training videos. The actual trade signals themselves are analyzed in real-time in the live Webinars. The entire goal of this system was accuracy - not catching every trade.
In answer to your other question, I have been a trader for a little over 12 years now, I am a partner in the firm; and was involved extensively in developing, actively trading and back-testing the Viper system over the past year and a half.
Once again, thank you for your input, and I look forward to opportunity of respectfully participating in your Forum...
jimkane: Thanks for the response, cba. Wow, those are some incredibly impressive stats. Given these are intraday trend trades, it's almost incomprehensible to me. My style is intraday trend trading, and with the 3 to 5 to 1 or sometimes higher reward/risk profiles I'm happy anywhere in the 30% to 50% winners range.
I have a few more questions. Is there a way to follow along and see live trade signals the moment they develop, on a trial basis? The web site mentions visiting a live webinar for a day. Would one see live signals in time to act, or only after they have started? What if no signals are generated that day, can someone try another day? It's very hard to evaluate a system with a one-day trial, especially one that generates only a few signals.
Next, what is the difference between live webinars and live trading room, as far as signals given in real-time? Also, if one signs on to your room and gets all that training, does that do any good without the software? What is the cost of the license, since the website doesn't specify this? I'd love to follow along real-time for a period and evaluate your system, but I'm not sure you have any provisions where I could do that without laying out money first. Again, if I don't ask all these questions, someone else will. Since I'm probably the longest-winded character at this forum, I figured I'd just get the ball rolling. It's not often I hear about a system that has almost no losers at all.
Lastly, if we go much further with this discussion it may be appropriate to move it from this thread to one you or someone else could create in Trading Advisory Services.
quote:

---

Originally posted by Alinghy



I am going to post the same images coming from 2nd Pc for testing operation:
here the settings were a little bit different for both Cobra & Diamondback




---
Alinghy,
please explain in detail the difference in the scalper auto-trader parameter values,
i.e.
which were the values of the parameters that produced the simulated profit of 825$
and to what values these parameters were set so as to produce a simulated loss of 1637$
Thanks for your contribution..
Hi Unicorn

please go to page 19 and you'll get the listing of the various items

that form the customizable side of the strategy ( a 'grey box' we could call it)

the settings and the profit / loss I posted subsequently are all related to the 2nd Pc, and there you could find the two colums sorry if they are not perfectly aligned, my fault, but you can compare those related to Diamondback with the one shown into page 19 .

I think the losses came up approximately after 7.30 am, and can assure that Pc's were running properly and no interruption of feed nor whatever, happened.

Seems that these strategies are running better when the markets open and for the first 2 hours more or less, it is also cloear that in a trendy day the performances are extended.

But my idea is that tomorrow I'll change something into the settings, especially for targets, on a dedicated pc, while another will run the strategies as they originally are at the 'state of the art' and we will compare results .

Hope I have been of any help

regards
Alinghy


quote:

---

Originally posted by unicorn



quote:

---

Originally posted by phantasmagoria



The latest spin is you should only trade this thing in the morning, before the roosters.



---




ROFL..

man, you are hilarious!

Seriously though, what do you think that this method needs to produce positive results? Please note: method, NOT system.

You certainly know your lsma(21) and Heikin Ashi. How would you trade this sucker??

take care..


---
Frankly, I wouldn't trade it. Why? It fails miserably in backtesting. The Viper boys know this and that's why they are "forward" testing it, hoping it will act like a chameleon and change its losing colors.
There is a benefit in using the Lin Reg lines in a strategy, but these amateur clowns haven't figured it out. I am currently working on an
AT
strategy that is not breakout, but rather on pullback, based.
When and if ever it produces a positve expectancy after brute force backtesting, I will share it with the world for
FREE
.
quote:

---

Originally posted by Alinghy



please go to page 19 and you'll get the listing of the various items
that form the customizable side of the strategy (a 'grey box' we could call it)



---
Hello Alingy,
If you don't spend time to explain the settings you use, how do you expect feedback and evaluation of what is going on with the scalper system?
No gray boxes allowed !!
It took me some time to realize that the results you show are for the same system settings (pc2) aka tweak #2, and that tweak#2 has turned the morning profit of $825 into a loss of $1637 during the congestion time.
So lets try to sort out the system parameters, and keep them the same throughout the tests, to be able to arrive at conclusions.
tweak first second
break-even stop_____________1______________1
break-even trigger__________4______________6
break-even plus_____________1______________0
break-even buffer___________0______________0
++++++++++++++++++++++++++++++++++++++++++++++++++++++
stop 1st contract set_______9______________9
stop 2nd contract set_______8______________8
stop 3rd contract set_______7______________7
++++++++++++++++++++++++++++++++++++++++++++++++++++++
target 1st contract set_____4______________4
target 2nd contract set_____6______________6
target 3rd contract set_____6______________8
++++++++++++++++++++++++++++++++++++++++++++++++++++++
contracts in 1st contract set_____1______________3
contracts in 2nd contract set_____1______________1
contracts in 3rd contract set_____1______________1
++++++++++++++++++++++++++++++++++++++++++++++++++++++
result _______________________$_???_____________LOSS_$_1637
Tweak #2 has 5 contracts total vs 3 contracts total for tweak #1.
The difference of 2 contracts is on the first set, trying to increase the income from the "easy" first target in tweak #2.
On tweak #1 you have lowered the 3rd set target from 8 to 6
ticks
, while you keep the same stops. Effectively you try to have a "less risky" strategy by grabbing the runner (contract set #3) profits at a lower target. This in effect circumvents the notion of the runner.
Still the stop for contract set 3 should go down too. (otherwise it is not a less risky strategy)
The break-even strategy is:
tweak #1: raise stop to break-even when 4
ticks
profit is reached.
tweak #2: raise stop to break-even when 6
ticks
profit is reached.
What is the meaning / effect of
break-even plus and break-even buffer??
What were the results of tweak #1 in the morning (profitable trending session) and at the end of day (after the congestion) ??
Thanks again for posting the test results.
Take care.
quote:

---

Originally posted by unicorn



quote:

---

Originally posted by Alinghy



please go to page 19 and you'll get the listing of the various items
that form the customizable side of the strategy (a 'grey box' we could call it)



---



Hello Alingy,

No gray boxes allowed !!

What is the meaning / effect of
break-even plus and break-even buffer??

Thanks again for posting the test results.

Take care.


---
Hi Unicorn
very tired yeasterday, sorry for not answering immediately
but was too late .
Gray box : very simple, this name is for a bos regarding we dont know ery thing but we can interact with customized settings; this seems our case .
breack-even plus means that if you set example 1 or 2 or 3 as digits this means that when you reach the number of thicks settled in 'BreackEvenTrigTicks' example 6 , all the stop loss positions will be moved of 1 or 2 or 3 etc.
ticks
in front of the strating entry point
each time the strategy enters Long / Short .
For the results of the tweak #1 I franckly not sure to have an image around 8.30.00 am PST for Cobra and 9.00.00 am PST for DiamondBack to show what exactly was the situation profit / loss at that time frame .
I apologize . For what seriously I remeber it was almost good meant more than acceptable around 7.05.00 am PST for both strategies.
Thanks and ready for any further detail.
Today # 3 Pc's dedicated with different settings concerning time frames, stop-loss, number of contracts .
will keep care to post at the best I can do .
Regards
Alinghy
Hi guys ---
I said last week I would post results on my Diamond back auto trade trail. Here is Mon, Tue, and Wed.
System is designed to trade from 8:35 to 12 eastern time.
This is 55 min. premarket to 2.5 hrs during mkt. If a news report is coming out during that time you set trading times to off for a few minutes. There is no other filter I use. One day last week we were advised to cut down to 1 contract since system had so many big days.
Made over $200 Mon, and broke even Tues and Wed.
I have made a total of $1172 net after commissions in 5 days of using system. Trail is in sim only, but I have been able to duplicate manually. Thanks
Click image for original size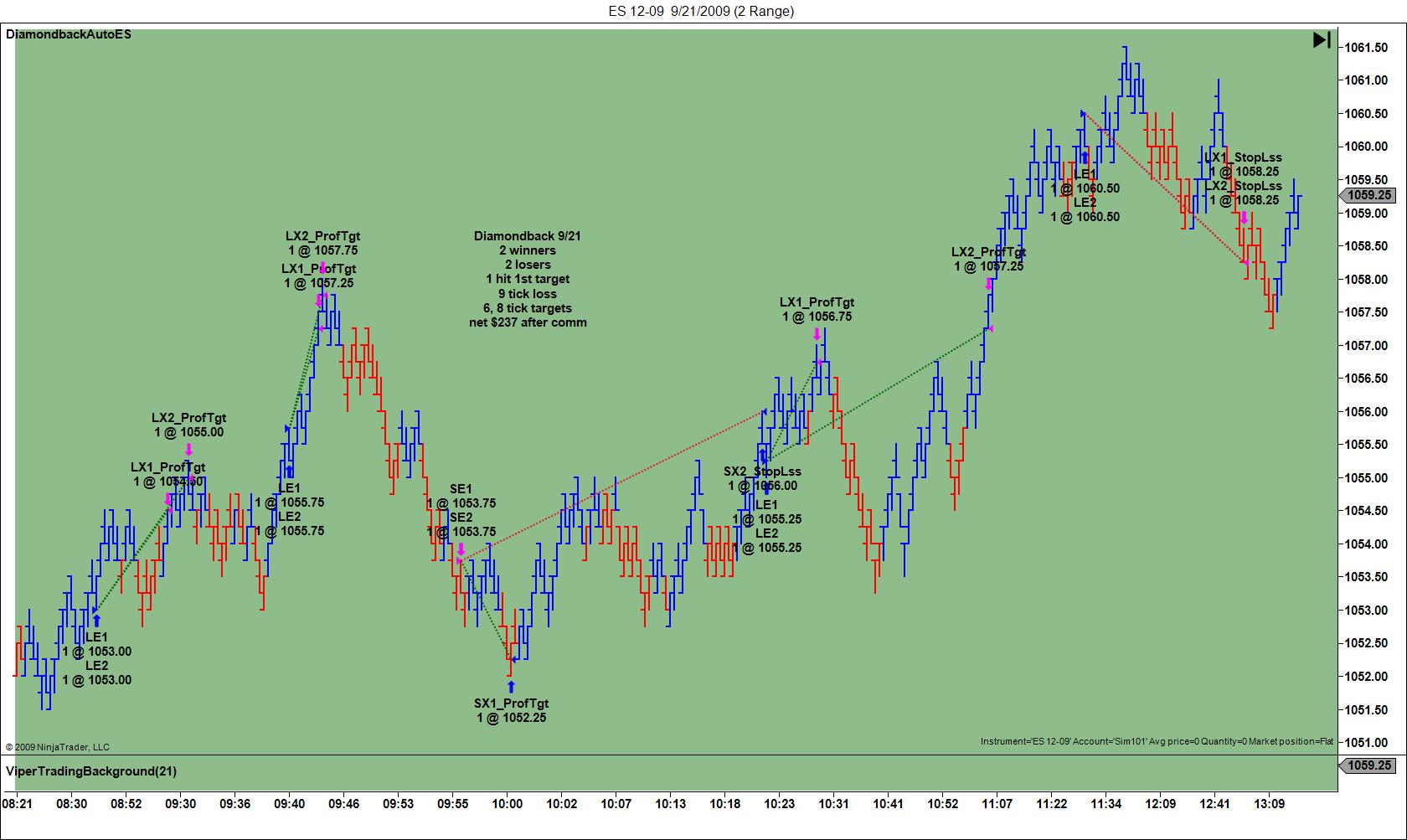 Click image for original size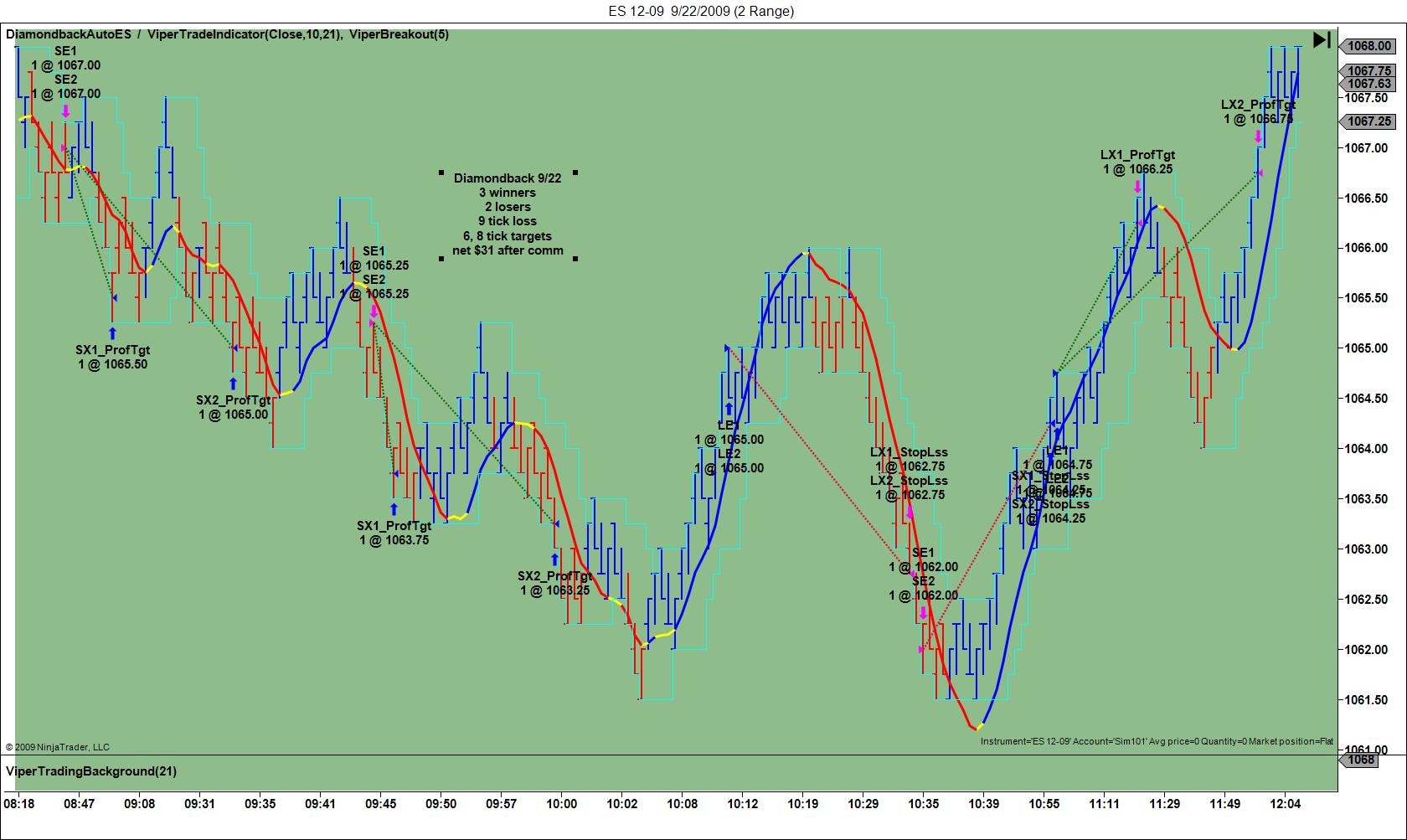 Click image for original size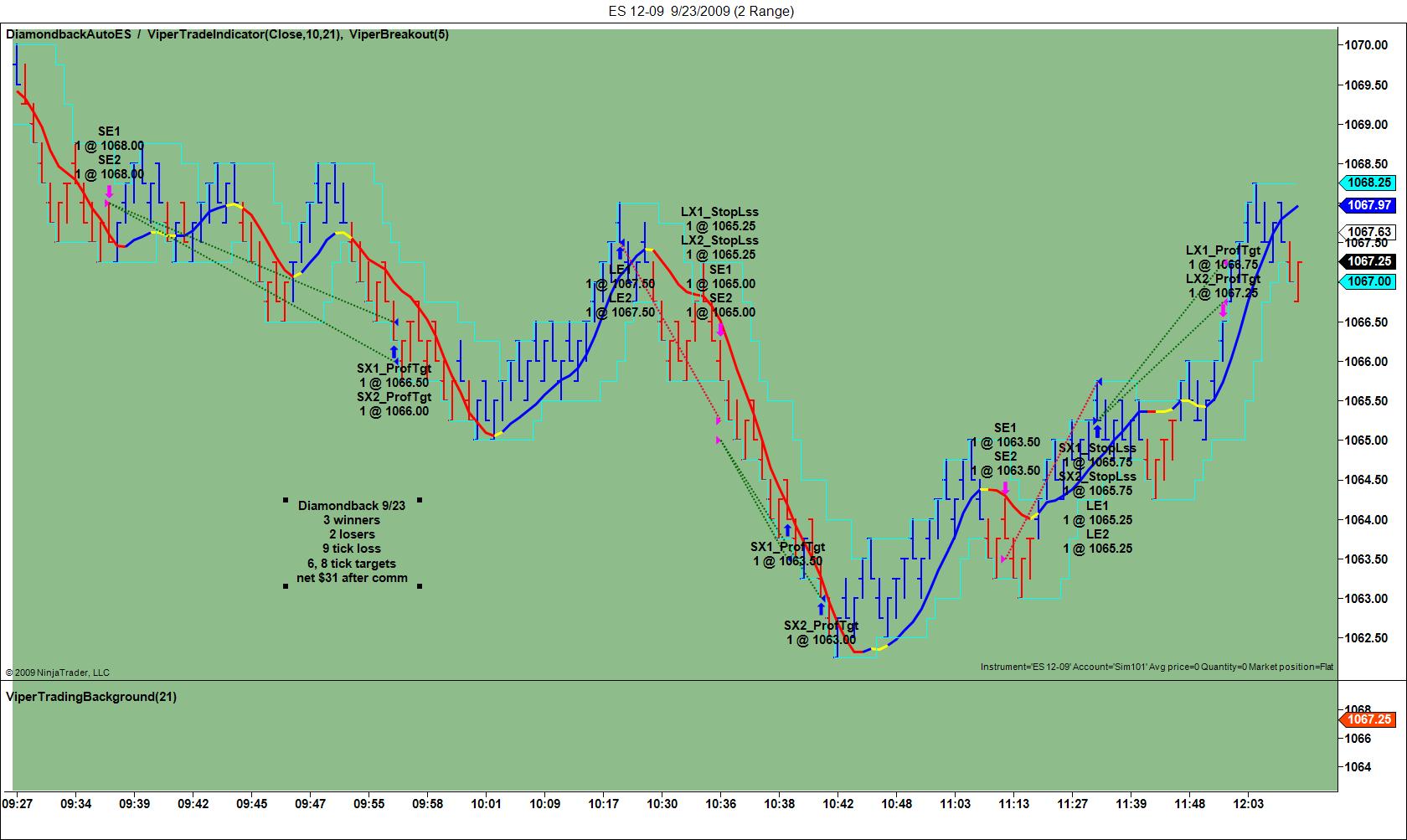 Alinghy -- I have been to all the meetings on the new auto trade ---- They have never recommended trading 3 contracts----
x HotYogaMan

I like overboost !

Didn't you ?

have a good day

Alinghy
Alinghy - Not brave enough to overboost --- yet
And you have a good one too
Sorry this reply is 2-years late but I just joined the forum.

I know from personal experience that GoToMeeting and GoToWebinar default to showing all users and all comments unless specifically disabled by the Host.

If they're saying what was reported that's a blatant lie.