eminiviper.com
I started this topic because some questions I asked and answers I got from cba33558 were getting lost in this rather extensive topic here:
http://www.mypivots.com/forum/topic.asp?TOPIC_ID=2300&whichpage=30
We started this discussion on page 30 of that thread, and I thought I'd move it here so we can continue it (since no one took me up on my offer to start this thread). I'll cut and paste the three posts made after cba33558 posted a chart about eminiviper.com
From 6/8/09:
jimkane: Hey, cba. I checked out that EminiViper.com page. Very impressive. Seems like they don't have any losing days, or even losing trades (or do they not post those?). Is that so? If not, how many stop outs or false signals are you seeing on an average day? It doesn't mean much to me to see winners, I am more interested in the losers I have to take to get those winners. Also, are you the owner of EminiViper.com, or do you work for them? If not, what is your association? If I don't ask, that will likely be the first question from everyone else. Thanks.
cba33558: Hey Jim -
Thanks for visiting the Web site and offering your constructive questions and feedback...
The videos are intended to show the
NQ
Emini trades that are triggered by the system each day. Currently the system is designed to issue trade signals only the Nasdaq Emini. In addition to the Viper indicator, the system uses a combination of guidance charts and a trading chart that very rarely has a losing trade. With all of these constraints, it should be noted however, that there are not many signals that trigger in any given trading day. Depending on the volatility - usually one or two trades may trigger - a busy day would be 3 trades.
The entire trading system is not shown in the videos; however, all of the details regarding these trade signals are shown in an eBook and training videos. The actual trade signals themselves are analyzed in real-time in the live Webinars. The entire goal of this system was accuracy - not catching every trade.
In answer to your other question, I have been a trader for a little over 12 years now, I am a partner in the firm; and was involved extensively in developing, actively trading and back-testing the Viper system over the past year and a half.
Once again, thank you for your input, and I look forward to opportunity of respectfully participating in your Forum...
jimkane: Thanks for the response, cba. Wow, those are some incredibly impressive stats. Given these are intraday trend trades, it's almost incomprehensible to me. My style is intraday trend trading, and with the 3 to 5 to 1 or sometimes higher reward/risk profiles I'm happy anywhere in the 30% to 50% winners range.
I have a few more questions. Is there a way to follow along and see live trade signals the moment they develop, on a trial basis? The web site mentions visiting a live webinar for a day. Would one see live signals in time to act, or only after they have started? What if no signals are generated that day, can someone try another day? It's very hard to evaluate a system with a one-day trial, especially one that generates only a few signals.
Next, what is the difference between live webinars and live trading room, as far as signals given in real-time? Also, if one signs on to your room and gets all that training, does that do any good without the software? What is the cost of the license, since the website doesn't specify this? I'd love to follow along real-time for a period and evaluate your system, but I'm not sure you have any provisions where I could do that without laying out money first. Again, if I don't ask all these questions, someone else will. Since I'm probably the longest-winded character at this forum, I figured I'd just get the ball rolling. It's not often I hear about a system that has almost no losers at all.
Lastly, if we go much further with this discussion it may be appropriate to move it from this thread to one you or someone else could create in Trading Advisory Services.
Today, the Viper Russell
AT
again went to "Big Red" losing 80
ticks
.
That's 3 days in a row for a total loss of 240
ticks
($2400) this month.
Mighty painful and ugly for those who dole out $299 a month for this untested crock of fecal matter.
Those 3 musketeers who operate this scam are
80
ticks
on monday, 112 on tuesday and another 80 on wednesday. $2700 in three days. Or 21 minutes on monday, 16 minutes on tuesday, I don't know about wednesday but I bet it was quick. Losing $2700 in less than an hour of trading over three days is brutal. It probably doesn't make a user feel like much of a trader, more like someone that was robbed.
In my experience as a subscriber, using the
TF
autotrader, my success rate was 38%, I was hoping for it getting a big move but it never happened to me. I had much more success with the mamba, but my account looked like a yo-yo, up a thousand, down a thousand, up a thousand, down a thousand. I remember watching a chart live saying to myself, please don't enter a trade, next thing I know it's in a trade, and I say to myself, "it must know something I don't." Then it gets stopped out. It seems like these scripts won't go more than 5 minutes without being in a trade.
They have released another script called ViperScalper which they claim will work on all futres,
forex
and even stocks. The problem is they haven't backtested it on anything yet to give confidence it will work. They are asking
AT
clients to test it for them and as a bone, they will not charge more money than the current $299/month they currently pay for the old
AT
. New
AT
members will have to pay more though.
I have a few friends who are using this Scalper
AT
and experimenting on different timeframes and instruments based on the "guidance" Rich has given in the webinars. So far, they claim it is garbage and have no intention of going live with it.
Unfortunately for those of us who enjoy being informed of what's going on inside of Viperville, my friends are on the verge of
canceling their subscriptions
for the simple reason the scripts do not make money on a consistent basis. They believe this Scalper was created to try to hold on to the rapidly shrinking group of
AT
subscribers, now estimated by them at around 25. That's a whopping 90% dropout rate from the heydays when Charles"snakeoil" Boyd claimed the Russell script was the Messiah and he cut off new membership at 250 lucky souls. My guess is that was probably just a slippery marketing scheme to generate more interest by placing those who missed out on a waiting list.
If any of you want to see charts with Scalper trades post your request here and I'll ask by friends to send them to me. Be sure to include the date. All the charts will have the current guidance settings per Rich's recommendations.
Originally posted by phantasmagoria

They are asking AT clients to test it for them and as a bone, they will not charge more money than the current $299/month they currently pay for the old AT. New AT members will have to pay more though.

They say they won't charge more for the ViperScalper if you're a current subscriber, history has proven that they won't ever charge more for it. They are just trying to keep subscribers. When I started subscribing they said that we would only get the Diamondback and Cobra and other scripts would be an extra charge. Then they released the anaconda and mamba, then the russell and an updated mamba. Still no new charges. Then they released the
6B
/6B2, now the ViperScalper and all of them are still $299. I might have missed some scripts, there are so many now.
And I predict that the manual Viper3 will still be $99/month even though they are saying it will cost more, even if Rich had a hand in it and is getting a commission.
Here are ViperATs results for today during
RTH
. The
6E
/B scripts were run from 10:00-2:00 EST as recommended by Viper.
Click image for original size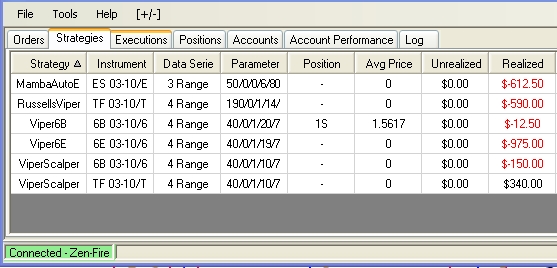 This just in.
At this evening's webinar for
AT
subcribers--what's left of them--Viper announced it is no longer going to offer
ANY
of the hard coded scripts that now exist, including RussellAT, Viper6B/
6E
, Viper6E2,Anaconda, MambaAutoES, or Diamondback to new subscribers. That's some vote of confidence as to the viability, consistency and lack of profitability of these systems.....
Existing users will be able to continue to run them if they choose, but these will not be supported by Viper. They are going to orphan status.
New subscribers, will only receive the Scalper script which was released 2 weeks ago and is UNTESTED AND
HAS
NO TRACK RECORD.
These guys change these scripts faster than prostitutes change johns, continuing to demonstrate they have no clue what they're doing or how to run a business.
Hilarious. Instead of curve fitting, which is never works anyway but is at least tried by most developers, they just chuck this crap and make something new.
It also appears to me that the Viper auto products were released way too soon and should of had more testing. My other complaint is the rate at which they released new products and then fiddled with them. I felt like a beta tester instead of a client using real money. I have had good sucess with the RusellViper but trade it only on days when pre-market is up or down 10+ points.
As to the original Viper, I do well with it. I confirm my entry with a second close down or up outside the box and then only enter the trade. This helps false breakouts. I shoot for $500 dollars a week and will build from there.
I was a subscriber to viper's auto trading system. Fortunately I never traded it live. I was never able to get any of their strategies to work properly on my computer. Some days they would produce the same results as those shown on vipers web page. Most days my results were dramatically different. They would have mostly winning trades and a huge profit. I would have multiple, large losses. Most of my attempts at communicating with them (email and skype)went without replies. Sometimes they answered my questions during webinars. They blamed the problems on my computer, my internet connection and my data feed. That was all BS. I opened an account with a futures broker that was trading the russell viper in managed accounts. The theory was that they should not have the same "computer problems" as me. Good thing the broker actually cared enough to test the system before giving me the go ahead to trade with real money. In spite of the fact that they have years of experience trading automated systems they could not get it to work right either. They told me that a number of their clients were trading the system themselves with similar results. The broker even flew Rich to their office and had him there for two or three days trying to find a way to make the system work. No resolution was reached. All of the other systems the broker runs use
trade station
. They have no problems with those. They suggested to Rich that he write a
trade station
version for them to use with their managed account clients. Rich said he would consider it. The broker has not heard from him since. I have inquired about this more than once via email, skype and webinars. No replies. I ran the new scalper script for a couple of days on several markets. About 90% losing trades.When I canceled my subscription I finally received a reply from Gary saying that I should call him and he would get Rich to talk to me to resolve the problem. Rich has still not bothered to reply. These guys seem like a bunch of charlatans to me.
Originally posted by Maestro

I ran the new scalper script for a couple of days on several markets. About 90% losing trades.When I canceled my subscription I finally received a reply from Gary saying that I should call him and he would get Rich to talk to me to resolve the problem. Rich has still not bothered to reply. These guys seem like a bunch of charlatans to me.

They are not only a bunch of charlatans, but terrible businessmen and traders to boot.
None of them trade their own accounts profitably using the indicator or AT.
THEY MAKE MONEY FROM TRADERS WHO BELIEVE THAT OTHERS HAVE A SECRET WAY TO BE PROFITABLE AND CAN BE SHARED FOR $299 A MONTH.
They are basically bookmakers. They take a vigorish from punters who want to speculate and gamble while not risking any of their own money.
Rich finally called. He spent about an hour with me. I apologize for the disparaging remark. Everything I stated re. my experience with viper is accurate however.
Sorry this reply is 2-years late but I just joined the forum.

I know from personal experience that GoToMeeting and GoToWebinar default to showing all users and all comments unless specifically disabled by the Host.

If they're saying what was reported that's a blatant lie.