ES short term trading 5-24-10
ES short term trading 5-24-10
The 24th. Could be an important turn date, but it wont be easy. Volitility should stay high since there was a solar day this weekend which should influence friday and today. Well the short term projection down was 1076.25 and we've hit that and filled the air at 1075.25. Going to get some sleep but heres a short term snapshot for
globex
....
Click image for original size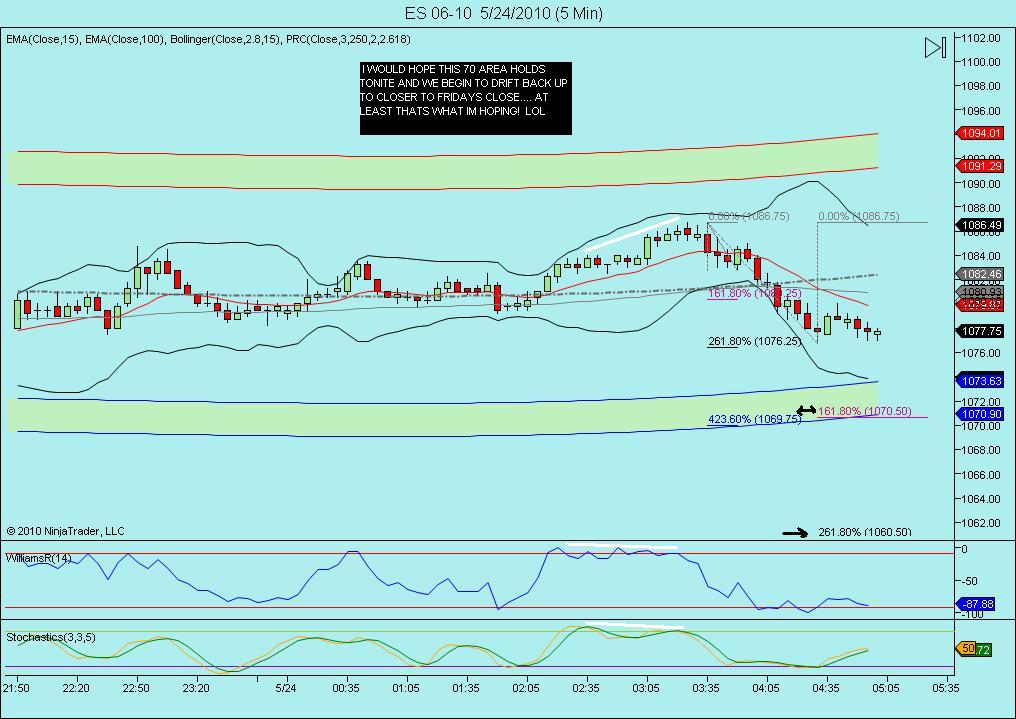 Fwiw, if mkt gets any legs or any decent intraday upmove swings ... had a list of stock to follow coming into today (as potential longs):
NFLX
SNDK
CMG
CSTR
BIDU
CRUS
AKAM
NAV
SHW
... just an fyi for other stock traders here -- not intending to talk stocks or threadjack ... just a quick post. Another reason I mention these is that looking at individual stocks that have an apparently good looking long setup can offer early insight as to the overall mkt's quality and expected direction. If quite a bit of the long setups are messy and/or unfolding in the wrong direction ... often means weak mkt etc. etc.
that might have been the test...at the 76 low....they'll try to get that 81 area again and higher
too fast tp type anything meaningful....just watch what happens ( or doesn't happen) at 75 , 81.25 and 87.50....
we need the 81.25 to be a supportive area now...then they will try to run those
O/N
highs.....we don't want to see that number fail now.....this is just one big consolidtaion so I wouldn't expect miracles and an easy run at highs or lows today....we will have to work for them when stuck in a range
Wow, as i had hoped... that 1170 area held (so far!). i guess i could call that a Bingo!..lol... good morning all! (Now, wheres that jerk that thinks fibs are worthless? i dont know of any other analysis that can call a bottom or top within 2
ticks
!)
that Jerk would be me..as I think everything we watch is meaningless on it's own...LOL!!

Confluence is king !! and Elvis of course!!
gheesh 56.25 ...wow !! if this fails then 50 number is next....anyone see the progression or is it lost...??? personally I'd like to see it hold for the 62.50 retest