ES key numbers for 3-30-11
ES key numbers for 3-30-11
1300 - 1301.25 *** this is Tuesdays low and an area we have been watching recently that held. Volume spike at 1301.25 today.
1305.75 - 1307.00 - *****This is the
value area low
and a volume area that was created today. Also a
Low volume
area and some rejected that area quickly today. The opening range is in here too from Tuesday. Standard pivot formula S1 is in here.
1310.75 - 1311.75 ******* the big kahuna...we have the
POC
in here, volume spikes, and the standard pivot is in here. We also have a
low volume
area and the market moved away swiftly from the 1311.75. Any good shorts and buying failure will go back to this point. A big magnet that needs to be remembered even if it doesn't fill in on Wednesday. The opening range for the Week is also in this zone.
1315 - 1315.50 - *****This is Monday's High and the 4PM close sits here from Tuesday.
Value area high
is here too.
1320-1322.50 - we have multiple tops here and the R1 level sits up there.....monitor for poor volume and lack of follow through on any breach of that area
There are no 10 a.m reports on Wednesday but a few before 8:30 in the morning. This was some what of a trend today so it should be a better day tomorrow to buy into breaks and sell rallies early in the session. I prefer the sell side but not on declines.
small shorts for me at 23.75......there is a report at 8:15 today...just an FYI....the 1322.50 has all the volume right now
Good morning.On the weekend preview, i laid out 2 scenerios .A pullback for 2-3 days , or a continued up move to 1323.50 for 2 days and then a pullback. Now its judgement day. We got a little pullback early in the week,but only 14 handles or so (1314.50 to 1300.25) and it only lasted around one day! Extremely bullish! Yesterday and today, short term projections were targeting 1324.50, so this morning i went short at 1324.25,looking for a little triangle target of 1320,and eventually,1318.75. Whether thats all we get,and we continue up to 1329.25 or not will be the bigger question,imho.During the whole 'roofer' mess i was charecterized by him as 'bullish' (correctly,i think) and even tho the consensus was for much lower than 1241, i have tried to show that that decline was a superb buying opportunity for a move to eventually 1426 minimum! Numerous (at least 7) quantitative studies have shown MUCH higher prices for the 1-3 month timeframe coming up. I really thought we'd get a little better retest of the 1241 low (say ,at least in the 1280's) but im not so sure anymore thats in store... currently my short term bias is short ,from 1324.25 with an exit planned at 1320.25...
gap
guy says that
gap
fades
are less probable to fill when we open above the R1 level....so we need to keep that in mind
On the plus side , Yesterday was an outside bar to the upside.....I like fading those on higher opens....The
OVB
up would be more powerful if it happened at a swing low......not near swing highs like yesterdays.
Either way the 1322.50 number is important as volume is building there.
two off at 21.50...holding one for
gap
fill...hopefully we can re
add
to short side in day session......need opening range.
revising last target to 1317.75.....top of closing range...
O/N
Profile. Interesting to see majority of volume near top. Is this shorts building positions?
Click image for original size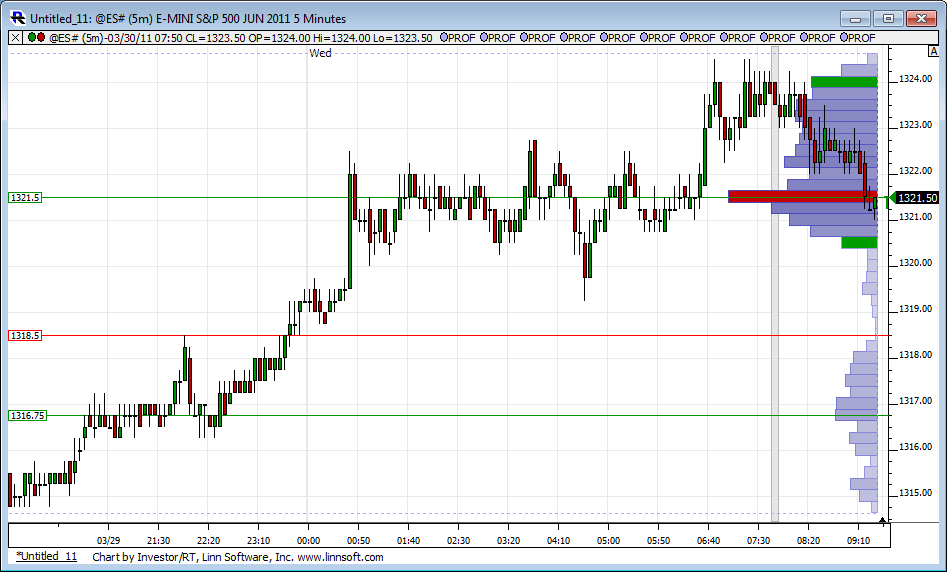 I see it now, Kool. Thanks