ES key numbers for 3-30-11
ES key numbers for 3-30-11
1300 - 1301.25 *** this is Tuesdays low and an area we have been watching recently that held. Volume spike at 1301.25 today.
1305.75 - 1307.00 - *****This is the
value area low
and a volume area that was created today. Also a
Low volume
area and some rejected that area quickly today. The opening range is in here too from Tuesday. Standard pivot formula S1 is in here.
1310.75 - 1311.75 ******* the big kahuna...we have the
POC
in here, volume spikes, and the standard pivot is in here. We also have a
low volume
area and the market moved away swiftly from the 1311.75. Any good shorts and buying failure will go back to this point. A big magnet that needs to be remembered even if it doesn't fill in on Wednesday. The opening range for the Week is also in this zone.
1315 - 1315.50 - *****This is Monday's High and the 4PM close sits here from Tuesday.
Value area high
is here too.
1320-1322.50 - we have multiple tops here and the R1 level sits up there.....monitor for poor volume and lack of follow through on any breach of that area
There are no 10 a.m reports on Wednesday but a few before 8:30 in the morning. This was some what of a trend today so it should be a better day tomorrow to buy into breaks and sell rallies early in the session. I prefer the sell side but not on declines.
7 year note auction at top of hour
If 12:18 and 12:39 big shorts - see footprint chart above- have to cover, my target is 1329
Low volume
probe
Click image for original size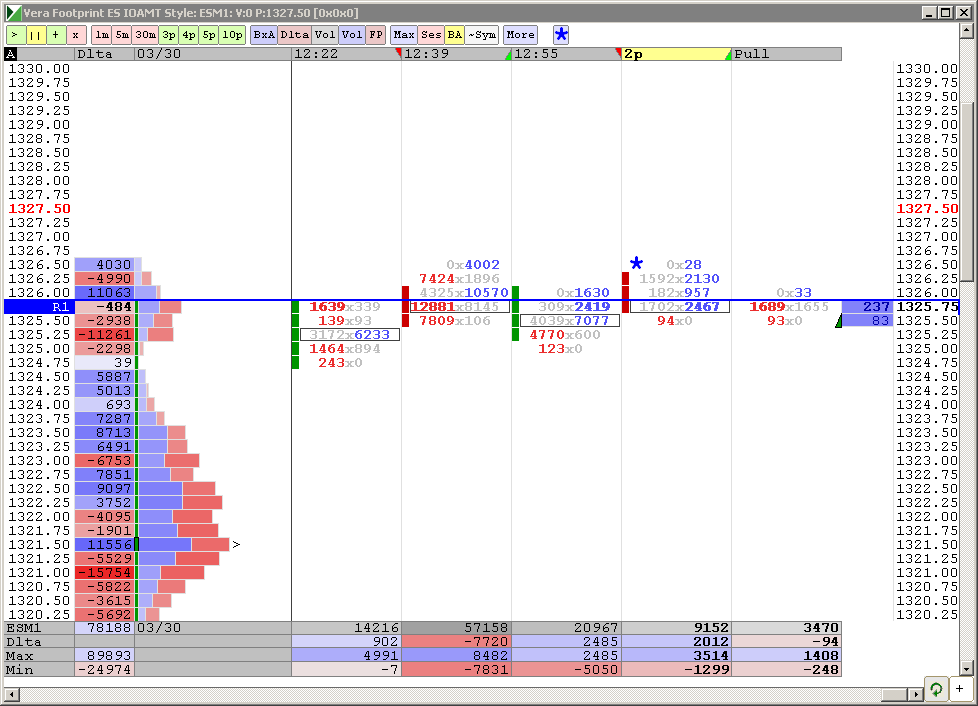 I guess for me Lisa the only benefit of firing up my
Delta
charts is seeing the Exact price where the big volume is but I can usually see that on my one minute data...
So how specifically are you using a big RED
delta
bars at the highs ...? sometimes they signal shorts and sometimes long...I want to distill the core concepts which tilt the odds in my favor in regards to
delta
Without us having exact data, our skype conversation would be a waste as far as
Delta
is concerned because our data doesn't match but we can talk about the other stuff you wanted to still...
adding at 27.50....nice call Kool on the upside...same targets....
I missed your entry Lisa.......can u point it out...?
Originally posted by Lisa P

If 12:18 and 12:39 big shorts - see footprint chart above- have to cover, my target is 1329

good resistance at around 340 in ym which will likely coincide with 29.5 or so in es...in the meantime, 27.75-28 should hold the line for a bit as there are some intermediate projections there
they will need to test a previous 30 minute bars low soon.....so hopefully it will be under the 25 bar with that
air pocket
and
O/N
high 24.50 - 25.50 will be key area on the retest down
I see it now, Kool. Thanks