ES key numbers for 3-30-11
ES key numbers for 3-30-11
1300 - 1301.25 *** this is Tuesdays low and an area we have been watching recently that held. Volume spike at 1301.25 today.
1305.75 - 1307.00 - *****This is the
value area low
and a volume area that was created today. Also a
Low volume
area and some rejected that area quickly today. The opening range is in here too from Tuesday. Standard pivot formula S1 is in here.
1310.75 - 1311.75 ******* the big kahuna...we have the
POC
in here, volume spikes, and the standard pivot is in here. We also have a
low volume
area and the market moved away swiftly from the 1311.75. Any good shorts and buying failure will go back to this point. A big magnet that needs to be remembered even if it doesn't fill in on Wednesday. The opening range for the Week is also in this zone.
1315 - 1315.50 - *****This is Monday's High and the 4PM close sits here from Tuesday.
Value area high
is here too.
1320-1322.50 - we have multiple tops here and the R1 level sits up there.....monitor for poor volume and lack of follow through on any breach of that area
There are no 10 a.m reports on Wednesday but a few before 8:30 in the morning. This was some what of a trend today so it should be a better day tomorrow to buy into breaks and sell rallies early in the session. I prefer the sell side but not on declines.
the buyers need to get some more volume flowing or else we will just drift back into YD range and so far volume is weak....and that is good for us short holders
Here we go with some sellers trying to push down again. Still
VWAP
is key imo.
Click image for original size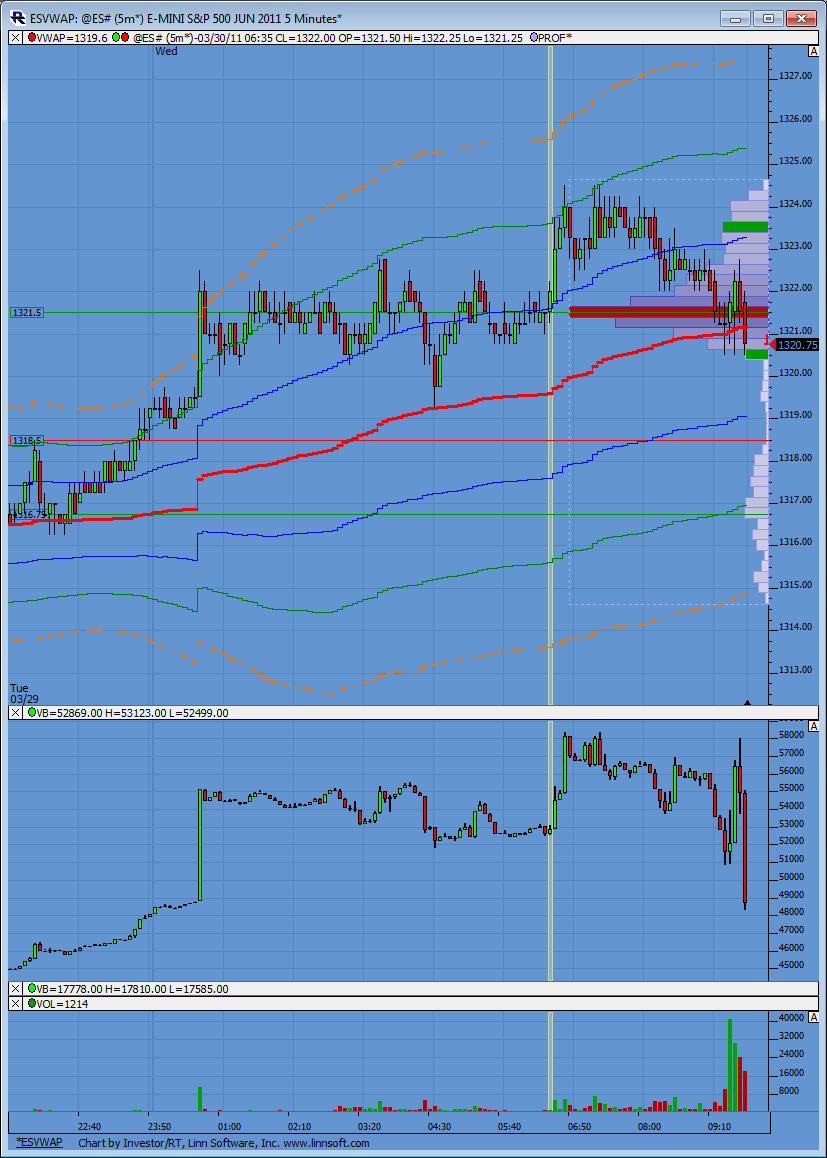 upside proj 1323.50, downside,1318.50...those are my entry points here in the early going
And again, anything is possible, but odds say the
gap
(1316.50) will NOT be fully filled.... we'll see.
my first target is 1/2
gap
fill at 18.75...confusing reading up here as
Ticks
are strong on the day but much less than Yesterday afternoon clusters..
will
add
above 1223.25....target is back to 21.50 for any
add
ons
very bullish market that wants 1329.25, but i am now short from 1323.25...
I will take one off at 1322.00 as the the minimum expected is 1321.50, and hold the runner, if they let me!
i,ll buy pull backs today.. i'm going to go long @ 22/22.50 and shoot for 24.50/25
I see it now, Kool. Thanks