ES key numbers for 3-30-11
ES key numbers for 3-30-11
1300 - 1301.25 *** this is Tuesdays low and an area we have been watching recently that held. Volume spike at 1301.25 today.
1305.75 - 1307.00 - *****This is the
value area low
and a volume area that was created today. Also a
Low volume
area and some rejected that area quickly today. The opening range is in here too from Tuesday. Standard pivot formula S1 is in here.
1310.75 - 1311.75 ******* the big kahuna...we have the
POC
in here, volume spikes, and the standard pivot is in here. We also have a
low volume
area and the market moved away swiftly from the 1311.75. Any good shorts and buying failure will go back to this point. A big magnet that needs to be remembered even if it doesn't fill in on Wednesday. The opening range for the Week is also in this zone.
1315 - 1315.50 - *****This is Monday's High and the 4PM close sits here from Tuesday.
Value area high
is here too.
1320-1322.50 - we have multiple tops here and the R1 level sits up there.....monitor for poor volume and lack of follow through on any breach of that area
There are no 10 a.m reports on Wednesday but a few before 8:30 in the morning. This was some what of a trend today so it should be a better day tomorrow to buy into breaks and sell rallies early in the session. I prefer the sell side but not on declines.
that'd be great if you get a chance....
Originally posted by Lorn

I don't have that much CD loaded right now. I can download the data after hours and let you see what it looks like.



Originally posted by BruceM

how does CD compare with the march 1st high Lisa mentioned Lorn....do u have data back that far for CD ??




im buying 1325.25 and praying for a short term double bottom here!...
Now if it goes beyond here,you'll be looking at 1323.25 and 1320.50 as the numbers...still hoping for a high a handle or 2 above that 1327!
looks bad for me..more selling than buying,,perhaps we are heading south.. just in case im raising up my stop to a very consevative 1324.25...that way if hit im still a winner today!
well, that volume stuff you guys love so much says im gonna get crushed!.. but i rarely change once in a trade so i have to stick with the original plan!.. gonna need a miracle here tho!(and some late day fireworks...lol)
wow, that was sweet, at least i got filled one oone es at 1326.25, plus another one handle in the bank!...think i'll just leave the stop alone and target 1328-1329 for a lucky exit on the runner!
that last 5 min bar up to 1326.25 had considerable buying in it , but still less than the red one down so im not out of the woods by any stretch!at least not yet!
Well Kool here is the
CD
look which is similar to yours. The idea is that the green bar from that last 5 min bar you refer to didn't overtake the beginning of the red bar yet price did over take it so what that means in
CD
terms is sellers are still holding here...
Click image for original size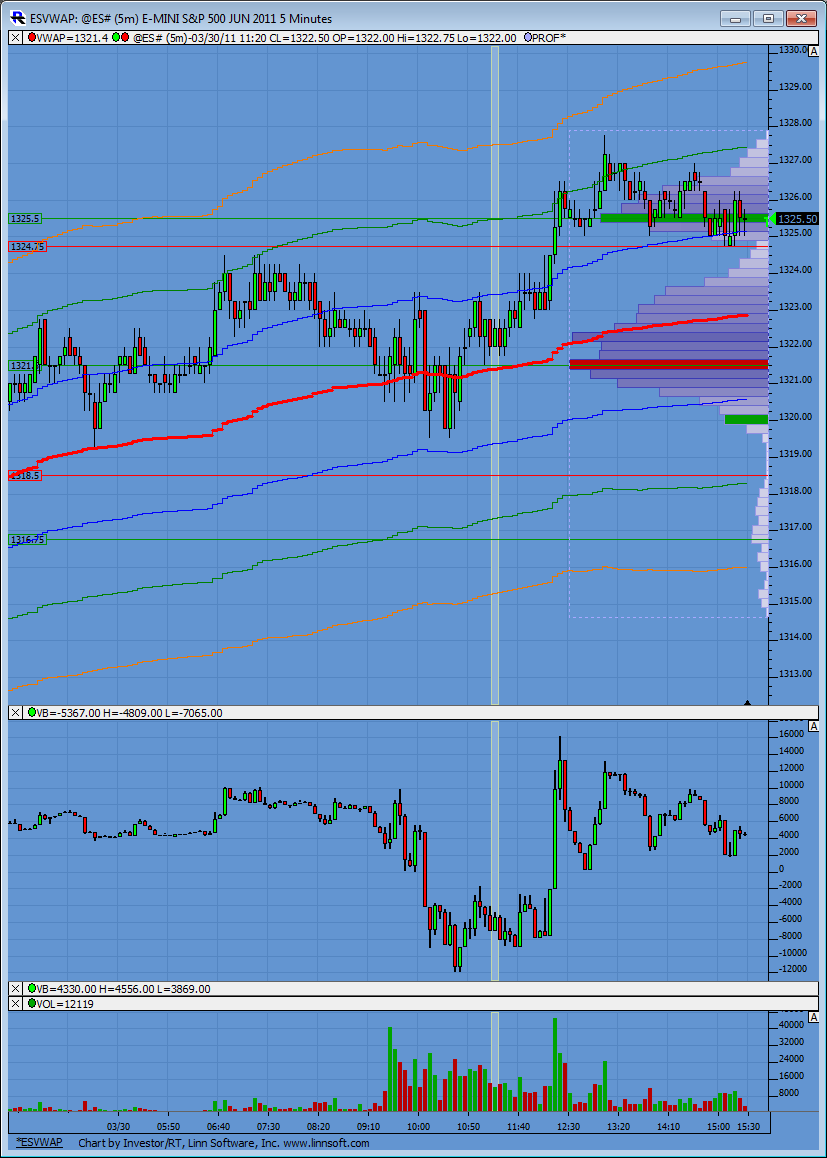 I see it now, Kool. Thanks