ES Monday 12-8-14
key zones today...ONLY THREE i
AM
USING THIS MORNING....I PREFER LONGS UNDER THE 69 -71 ZONE......
74 - 75 - 4
PM
CLOSE AND
PIVOT POINT
69 - 71 ***** MAGNET AREA AND
KEY
SPOT TO WATCH FOR DIRECTION THIS WEEK
63.75 - 65.75 - S2 AND
PRICE ACTION
VIDEO BABBLE EXPLAINS THE REST....MONDAY IS WORST DAY FOR
GAP
FILLS AND BE CAREFUL AS
ALL
WHO BOUGHT
AT
FRIDAYS LOWS MAY SELL
AT
OPEN
TO DRIVE PRICE DOWN A BIT BUT SINCE WE ARE IN A BULL MARKET THE PROBABILITIES STILL FAVOR LONGS...
SO
JUST USE YOUR ZONES...IDEAL LONGS WILL COME IF THEY CAN PUSH OUT THE OVERNIGHT
LOW
WHICH IS WEEKLY PIVOT AND
RUN
OUT OF STEAM
AT
OUR LOWER ZONE OF 63.75 - 65.75.....JUST NOT SURE THEY WILL
DO
AS I WANT THEM TO THOUGH
starting small longs at 69.50...very small
the fact that they can form vpocs at Fridays lows and can respect S2 in the overnight leads me to believe that big players are NOT in the market and we will mean revert ...most likely back to the 74 - 75 area today......we'll see how it goes in the first 90 minutes today...some feel that if we can't retest S1 in the first 45 minutes then you should look for shorts the rest of the day......that idea is untested by me and just tossing it out there....so I want to see us get beyond that s1 quickly today to support my long bias
came out of On long at 71 print and now coming out of
RTH
long at 69.50 and try to hold for 73...just ahead of key 74 - 75 zone
all us longs really want this to stay above Fridays lows...if you look at all session data we have a nice bell curve with 69.50 as the center....i am not convinced they are done testing that 69.50 but sure would appreciate a straight shot run up to my 73 target ...


too quick to post this and trade....so the above comment no longer matters..... key thing I forgot to mention but was watching ------WHERE was the On midpoint.......? a key measure for me!!
flat now and not trading anymore.....i know many will try for
gap
close fill...I hope it keeps running for ya...!!....I don't like to have to get through centers of bells to get
gap
close fills...sometimes that can take forever but hope the buyers can blow through quick if that is what YOU need...
nice trading Bruce..thanks for the comments
very strange formation...multiple lows and a
gap
in the data at 72...I'd like to find some small short to go back down to get that filled in
here is a shot of that strange formation...note multiple lows and
gap
in data
Click image for original size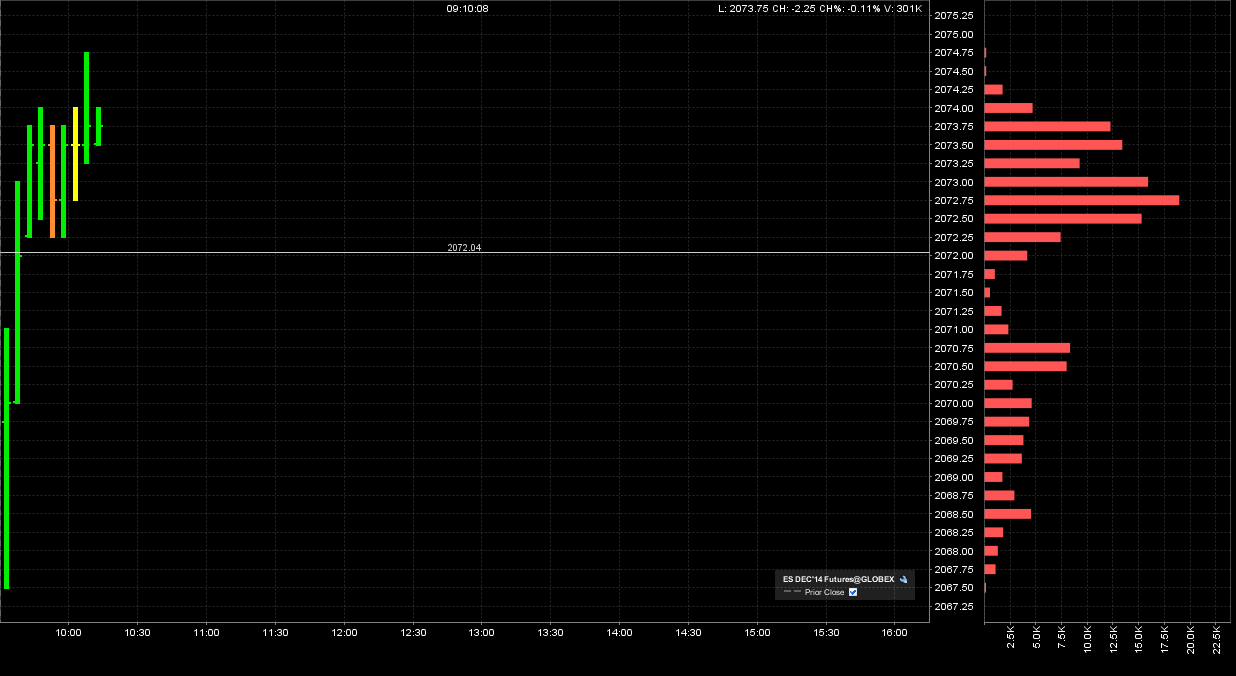 In the video, can you move the toolbar? I can't tell which prices you are talking about. Thanks!
BruceM, the problem that brettr mentioned is what I too had brought up several months ago...however, the *.swf links helped, which daytrading too has suggested as an alternative.