es short term 10-5-10
biggest thing to watch is if volume comes in above YD
RTH
high trspping shorts...otherwise they will drift it back to the 41.50 magnet.....
above is 46.75 and that old micro
gap
at 49.75...we are still
connsolidating...I'd be surprised if 41.50 doesn't print in
RTH
today
Report at 10 am...good volume at 39 area so the 39 - 41.50 will be key support and
O/N
air pocket
there
internals and infernals
AAPL
high around 293 area, low 281 area, so watching for break and hold of
hod
287,or loss of it.
BKX at about 48 here
mojo stocks driven down but not out EOM -
AMZN
,
BIDU
,
NFLX
,
VMW
,
GOOG
same formula as
AAPL
$ down here
IBM
top of form if not new high
SOX
and former
NDX
leaders-
MSFT
,
CSCO
,etc.. tepid here.
I have the 54 and 56.25 shorts...looking to get 52.75......but will tighten near 53.75


They love to push it 2.5 and 5 points above a key range....like the Thursday high of 53.50......

I'll need to trade down as a previous bracket test comes......amazing that none have come......YET!!!

key word....is YET!
Lorn...that right now was first sign of cracking my
Tick
trend line......we'll see if it helps this
fade
!!
here is a look at this current divergent trade.....most today are not going far before buyers step in.....also there is one measly
tick
air pocket
down at 51 area...you can't see it on this chart
IN general it seems that volume is drying up when price is above the 53.75 number.....that doesn't mean that the last hour folks can't start buying it if they feel it is worth buying up here..I think we are overpriced!!
Click image for original size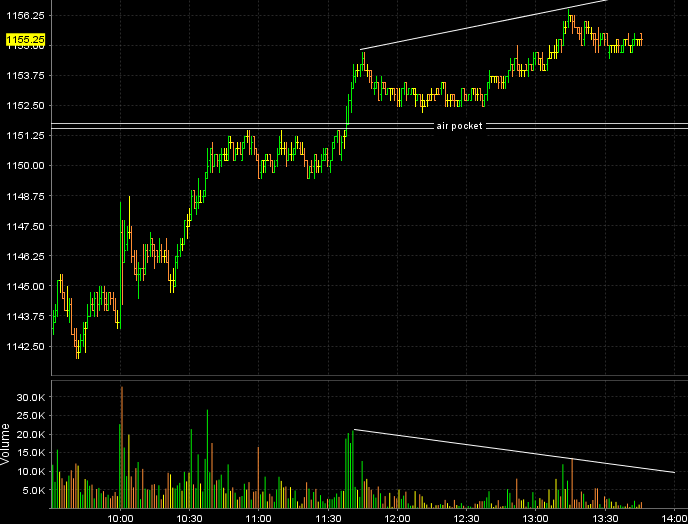 Ym trying to make all have new highs...nq and es not following so far...it will probably take a lot more than a
YM
/
ES
divergence
to get this down though..I'd prefer Nq back under 2015
extended wave -no retrace to 51.5
NFLX
,
BIDU
,
AMZN
,lagging
AAPL
at midrange
not all lined up yet
no break yet
new 10 and 20 day highs in
S&P
and advancers over decliners somewhere close to 6 to 1.....huge closing
$tick
...doesn't seem that there can be much power left for a big move tomorrow UP...
keys for me are 56.50, 51.50 and 46.50....a run above highs will try for the 61 - 63 area but not expecting that...hopefully just a slow drift down..