Merged Profile
Below is the result from a 4 day merged profile as this is where we most recently have consolidated during holiday trade. The
Value area high
of this merge is 872.50 and the
Value area low
is 59.50. You may also notice that the 863.50 price has had the most trade through so far. This chart doesn't include today's trading. I think that 59.50 - 63.50 is the area we need to beat for any upside to take hold as we have the
Va low
and that Volume node. Current overnight high is 73.50 so it was fairly close to the merged
VA high
of 72.50.
In today's trading we have
single prints
created to the downside and through that
high volume node
. I'm skeptical because of the holidays and
low volume
but as most know we will trend many times after consolidations. I'm not sure if this counts. Anyway it's been fun firing up the old
MP
software for a change.
To make a long story longer: That 859.50 - 863.50 is the critical zone to watch.
Click image for original size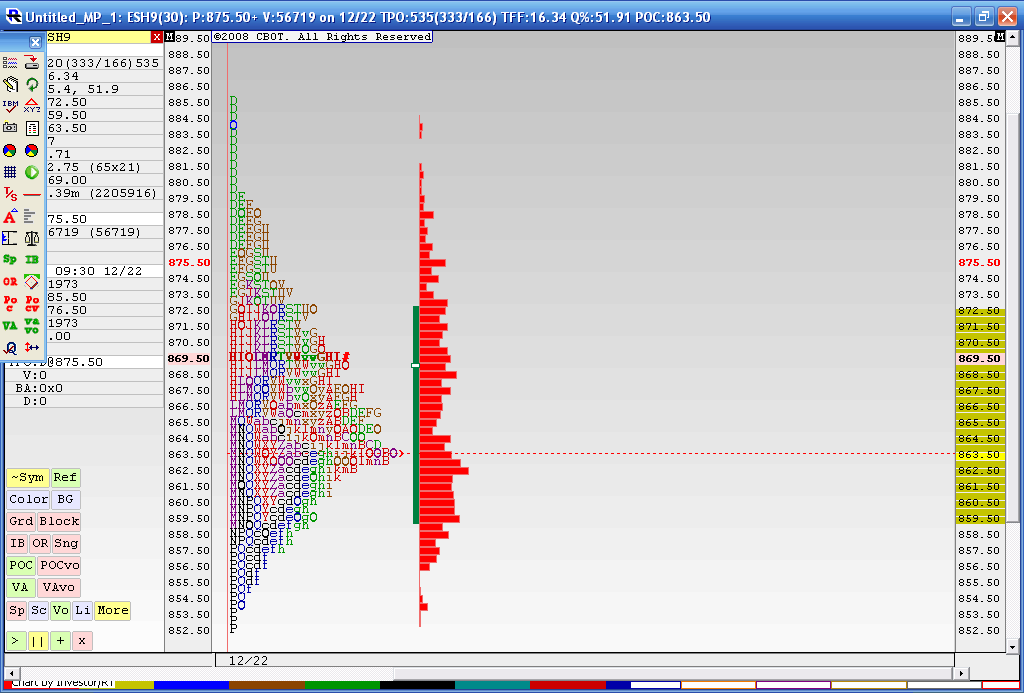 As i answered last thurs.,Bruce, closing
ticks
good for 55 handles so far!(830-775), Is that enough? Dont know but the average since AUg. 08 has been closer to 70. It should be noted that the last signal was only good for about 57 if memory serves.
thanks kool...we've had multiple high readings with no real sell off untill today....especially on a close basis....I was just wondering how well this worked in a bull market and if the signals were delayed in an uptrend....thanks for the input

Bruce
here is last weeks profile with todays profile...lots of consolidation at the 814 - 817 and we also see that today turned into a consolidation day for the
RTH
......a trend day would show an elongated profile.....so going with the breakout away from the 782 either way should be a good trade......I don't like the double
TPO
's on the lows but they aren't perfect....we still have double
tpo
's at 761.....friday produced double
tpo
's on the lows and highs....good longs will try to get back into Last weeks
Value area
above 800...while a good short will go for the 761's
hope this helps
Bruce
Click image for original size
no volume above yesterdays highs......and no plus 8- 10 yet offf open price failure below the opening range will try to push it back to that 782 number..however a good long will go for that 800 area...I have no long signals today..only shorts above the the first hour break out of highs
agressive short for me at 803.25..biggest volume spike of the day.near here..other one sits at the lows...singles in the 97 area...interesting time of day for this........weekly pivot at 808...so they may go for it and get me out
cool how we had double
tpo
's created in the selling tail of yesterday.......that and the Opening range was what I was watching....on my short before.......couldn't get a 30 minute close below the OR after those highs sold off...obviously my runners got clipped
taking the loss at 05.25.....I'm out of
NRG
today and didn't want to make this into a posting trades thread....my apologees...
now the challeng will be to form multiple
tpo
's inside last weeks
VA
to show some form of acceptance...longs don't want to see quick rejection from here
Here's how we went into the Weekly
VA
and rejected out of it..great tail at the highs in "K" period today and hitting the key 782 and beyond in the overnight as I type....
quote:

---

Originally posted by BruceM

now the challeng will be to form multiple tpo's inside last weeks VA to show some form of acceptance...longs don't want to see quick rejection from here


---
Click image for original size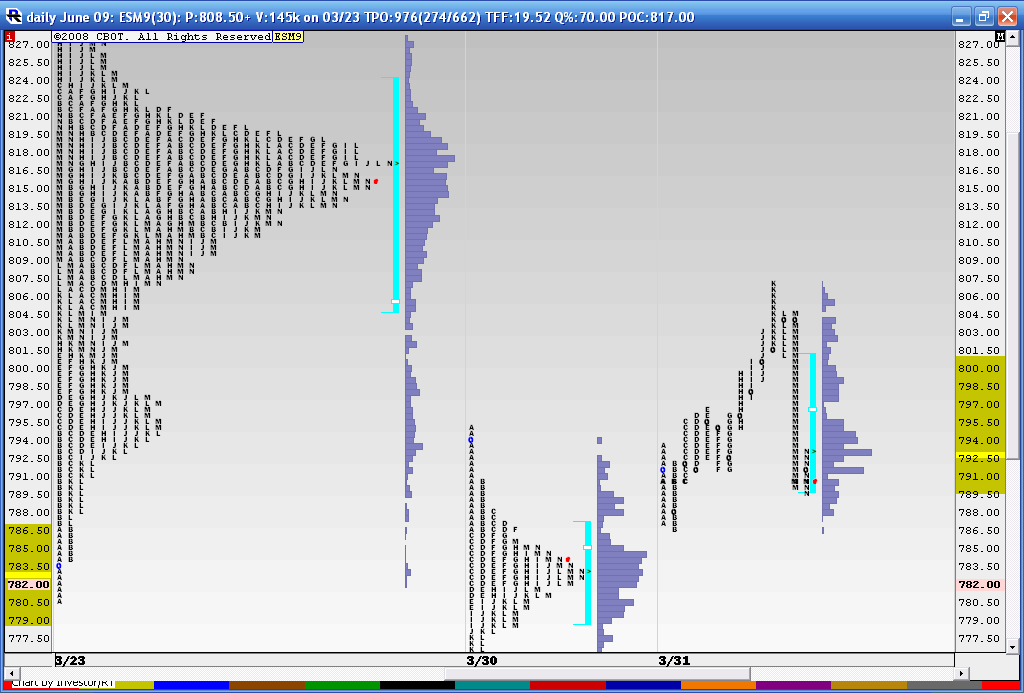 here are the last two days consolidation merged together...the obvious points that Jump out at me are the 838 area and then 832........on the downside we still have the 815 - 818 , a high volume zone ( not shown) and our old friend 866 which started this longer term down trend as a major number on the upside.....We are in the third day on High
$Tick
readings on the close with the last two days struggling so as usual I'm leaning to the short side
Click image for original size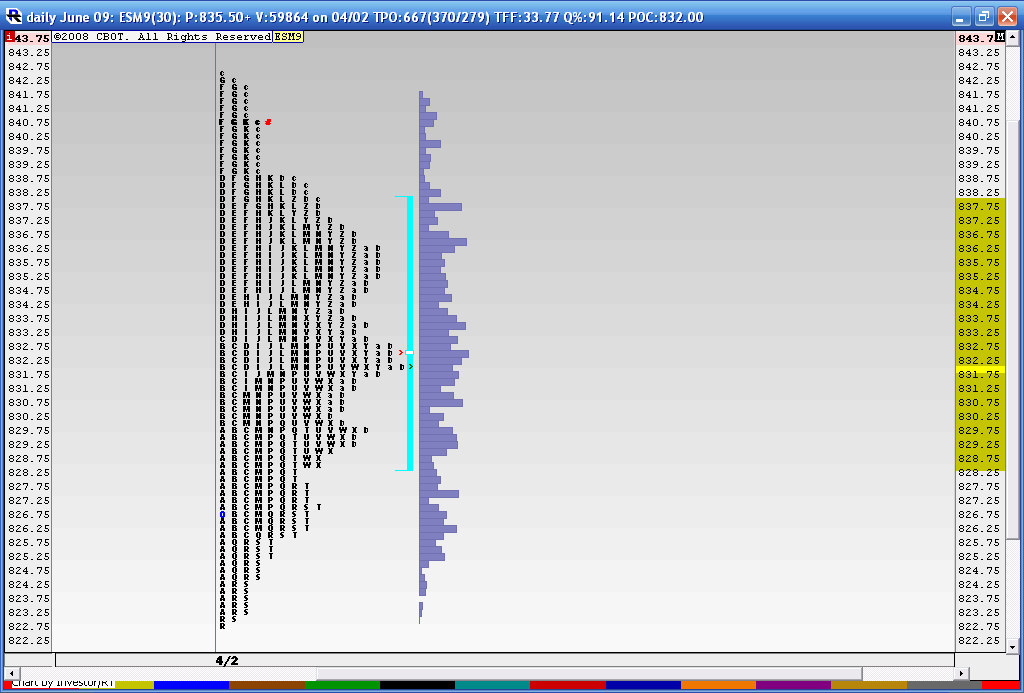 We had a break out up on yesterdays high Volume fed announcement.....now we need to see if we can attract Volume above...my feeling is that they will fail on this breakout and we will get daily closes back below 867.....Sure hope I'm wrong for the longer term players like myself....I'll get a chart later