Merged Profile
Below is the result from a 4 day merged profile as this is where we most recently have consolidated during holiday trade. The
Value area high
of this merge is 872.50 and the
Value area low
is 59.50. You may also notice that the 863.50 price has had the most trade through so far. This chart doesn't include today's trading. I think that 59.50 - 63.50 is the area we need to beat for any upside to take hold as we have the
Va low
and that Volume node. Current overnight high is 73.50 so it was fairly close to the merged
VA high
of 72.50.
In today's trading we have
single prints
created to the downside and through that
high volume node
. I'm skeptical because of the holidays and
low volume
but as most know we will trend many times after consolidations. I'm not sure if this counts. Anyway it's been fun firing up the old
MP
software for a change.
To make a long story longer: That 859.50 - 863.50 is the critical zone to watch.
Click image for original size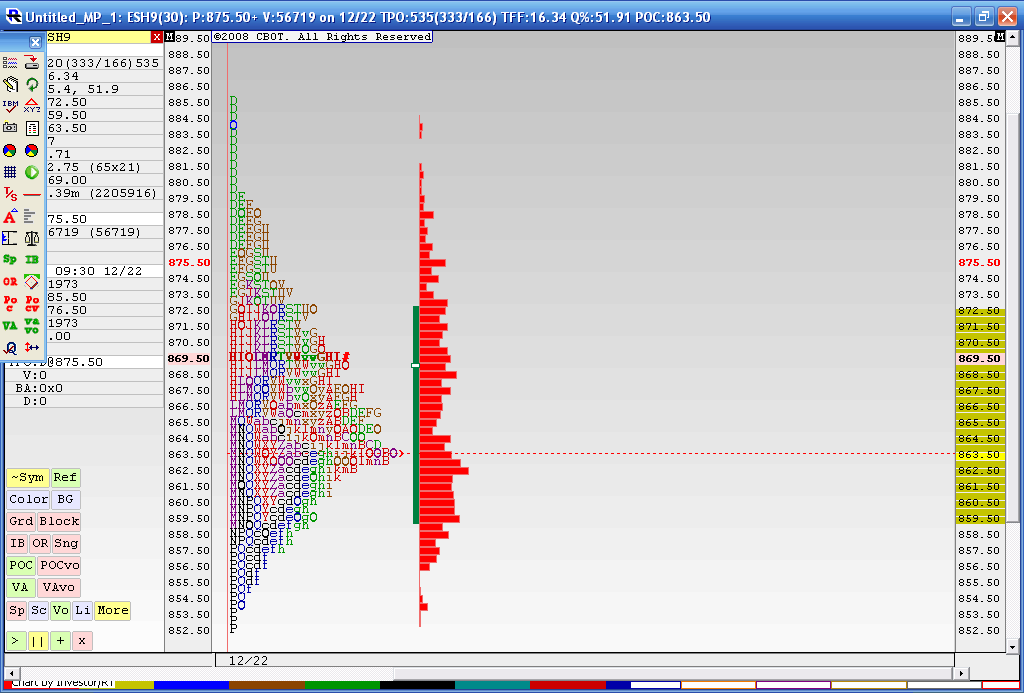 Yesterday's afternoon
IB
upside
range extension
was slapped down hard in the closing hour. So whereas the up side potential is in the 800.00 area as Bruce points out I would be surprised if the final hour slap down was not showing us the way for today - Down. If so we could easily see Bruce's low call - 754.00 - 757.00 materialize today. Have a good day all.
quote:

---

Originally posted by BruceM

Thanks Red...I've been firing up daily Volume profiles and the Volume Value area numbers from yesterdays trade come in as follows:

VA HIGH - 773.75
POC - 771

VA LOw - 751.50

So then I try to factor that in with the bigger picture and then I try to make good trades.....Having that 758 near last weeks low is another plus....weekly Pivot hasn't been hit up at 780 and we need to break out of the MOn-Tuesday range at some point...hopefully on the upside.... now that they have relieved some of that high $tick and TRin readings from yesterdays close they still have a chance at it soon


---
751.50 thats what I'am talkin bout even closed on it
I expect resistance in the 741.00 - 744.00 area. There is a Fibonaci projected low for this leg down in the 690.00 area.
N.B. 'Representative DeFazio of the 4th District in Oregon wants a transaction tax on all securities trading, including futures. This tax would be ? of a percent on all trades, possibly on each side. The brain-dead logic of this idea is that it will fund the TARP. Rep. DeFazio believes this is a punishment for Wall Street, yet it will only punish your customers.'
The
CME
is lobbying hard to prevent this. You can sign a petition at:
http://www.rallycongress.com/no2tradertax/1536/
I urge you to do this.
P.S. Want more read:
http://www.govtrack.us/congress/billtext.xpd?bill=h111-1068
Seems like the overnight folks are stealing our thunder for breakout trades.......I
split
the weekly
IB
of 40 points into 1/4 so the first target would have been down at the 29.75 area...with the S2 also coming in at 31 we had a good zone....at least so far today..IF we are to go lower before the end of next Tuesdays trade then the further targets are 719.75 , 709.75 and 699.75...yikes.....as I'm typing the market's up move has stalled.....up at the plus 10 range....double
tpo
's on the highs.( get run out often)....thanks for the links
DW
..
closing
ticks
on tues really called this decline, when every one on the street was calling for a rally this week into next week(including me im ashamed to say!). closing
ticks
target would call for 716 at a minimum if past history holds ,fwiw
Nice to "see" you again Kool...where are u folks posting your charts?
I find it interesting that the
Value area low
from volume yesterday is 750.50 and todays high is 750.75....LOOKS like us
MP
traders need to track both methods especially when they differ so much...I think in Time the Volume profiles will overtake the
TPO
count....
charts always posted in the kools tools private room...you know your welcome anytime ,friend .registration only takes a minute.....this chart was posted before the open this morning....
We had a break out up on yesterdays high Volume fed announcement.....now we need to see if we can attract Volume above...my feeling is that they will fail on this breakout and we will get daily closes back below 867.....Sure hope I'm wrong for the longer term players like myself....I'll get a chart later