Merged Profile
Below is the result from a 4 day merged profile as this is where we most recently have consolidated during holiday trade. The
Value area high
of this merge is 872.50 and the
Value area low
is 59.50. You may also notice that the 863.50 price has had the most trade through so far. This chart doesn't include today's trading. I think that 59.50 - 63.50 is the area we need to beat for any upside to take hold as we have the
Va low
and that Volume node. Current overnight high is 73.50 so it was fairly close to the merged
VA high
of 72.50.
In today's trading we have
single prints
created to the downside and through that
high volume node
. I'm skeptical because of the holidays and
low volume
but as most know we will trend many times after consolidations. I'm not sure if this counts. Anyway it's been fun firing up the old
MP
software for a change.
To make a long story longer: That 859.50 - 863.50 is the critical zone to watch.
Click image for original size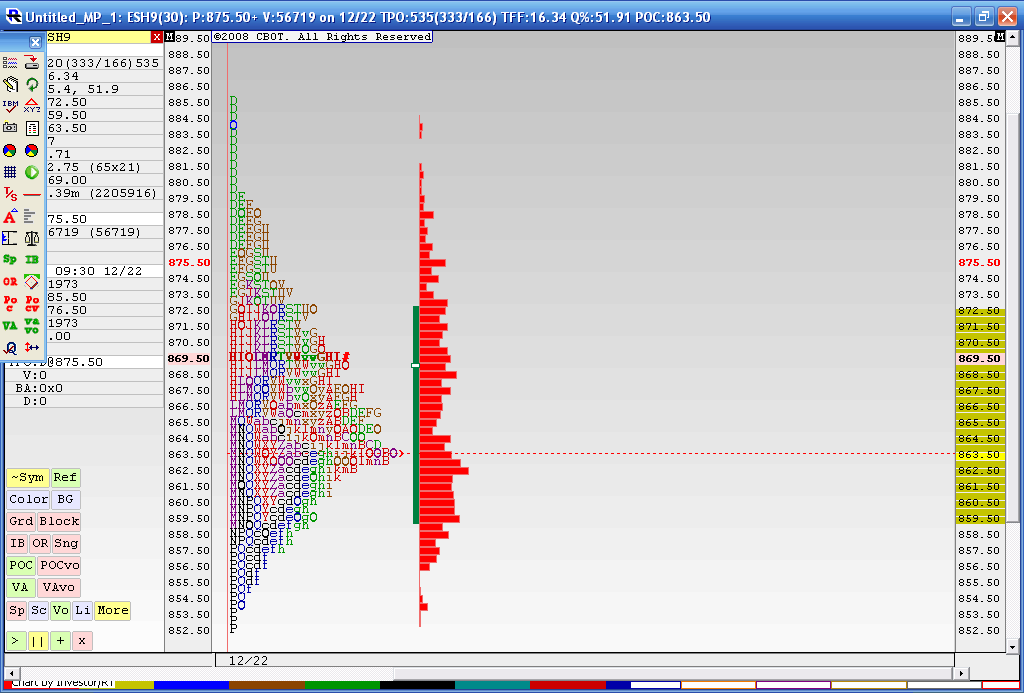 here is part of the cash from October 8th forward...... I can't fit the whole thing on my screen...and scaling is a problem...the red # is the current Thursday cash close....
Click image for original size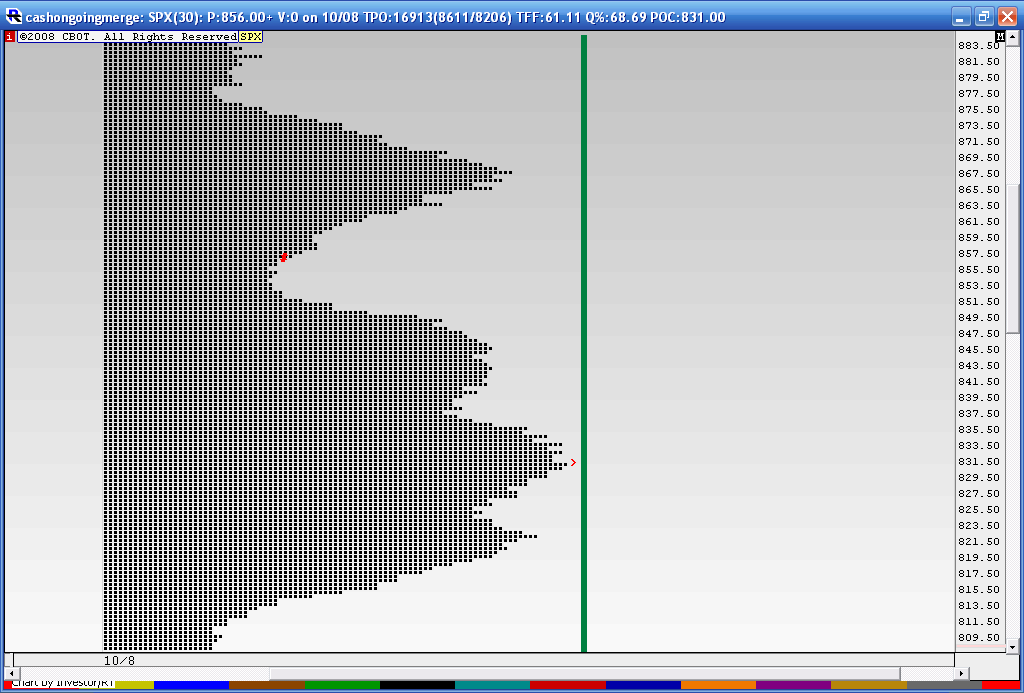 Bruce,
Thanks for the chart. Yesterday we certainly came close to 866.00. It seems that that 861.50 was rejected as fair value and prices are in retreat. The next most likely support is the
POC
in the 830.00 area, the red spot indicated on Bruce's chart. The
VA
Overlay chart after last week's trade suggests that we are likely to retrace even futher, possibly to the 811.00 - 815.00 area.
Good trading.
Just took a short at 866...this is the big volume zone from the long term......not sure if it will have any meaning
LOL I am short at 866.5 from the
RSI
thread. That big volume area looks good any way.....We need a lower low on this last 30min bar.
If those folks who bought up the 60 - 61's don't defend that then we may actually have a good short...so late in the day now...
I'm having forum problems......making me log in and downloading charts to my computer for some reasonp
quote:

---

Originally posted by BruceM

...so late in the day now...


---
Yeah, I always feel like trading at 3:30-4:00. I have always wished the
NYSE
would stay open till 5pm and close at 12:00-1:30. I think that would be a lot more movement i the afternoon. But then the other times I am in the wrong direction and just wish they would hurry up and close'em down for the day.
For once we are lucky perhaps. Of late much of the expected
VA
action has occurred in the overnight session. Now with failure to breakout above the key 866.00 we should retrace at least to the 832.00 area. If we break though that area on volume, and I think we will, we should make it to the 810.00 - 815.00 area before we get the next substantive comgestion..
here is the update........nice how it's been bouncing in between...it will be interesting to see if we
gap
higher on monday and then sell off..this was taken earlier today before the late day selloff and rally
Click image for original size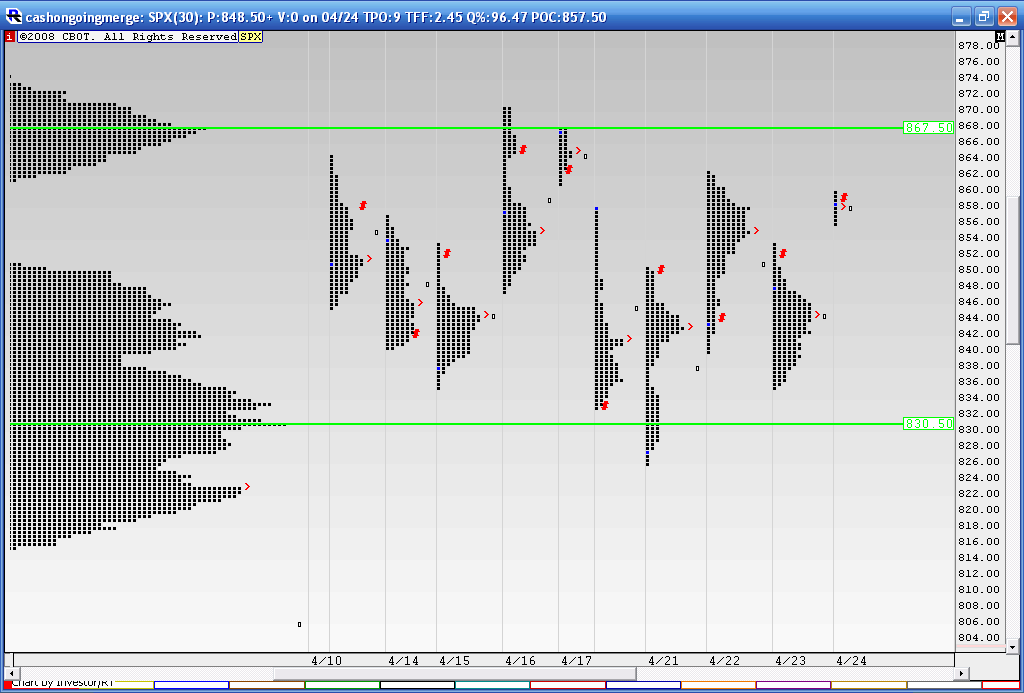 We had a break out up on yesterdays high Volume fed announcement.....now we need to see if we can attract Volume above...my feeling is that they will fail on this breakout and we will get daily closes back below 867.....Sure hope I'm wrong for the longer term players like myself....I'll get a chart later