CME Euro FX Futures 6E
Red, sorry ,i was already asleep when you posted!.. I haven't had much time to look at it, but the daily chart indicates 1.3826 coming. Cycles are not very clear.... here's a real short term peak (10 min chart).. id be buying anywhere around the lower
prc band
...
Click image for original size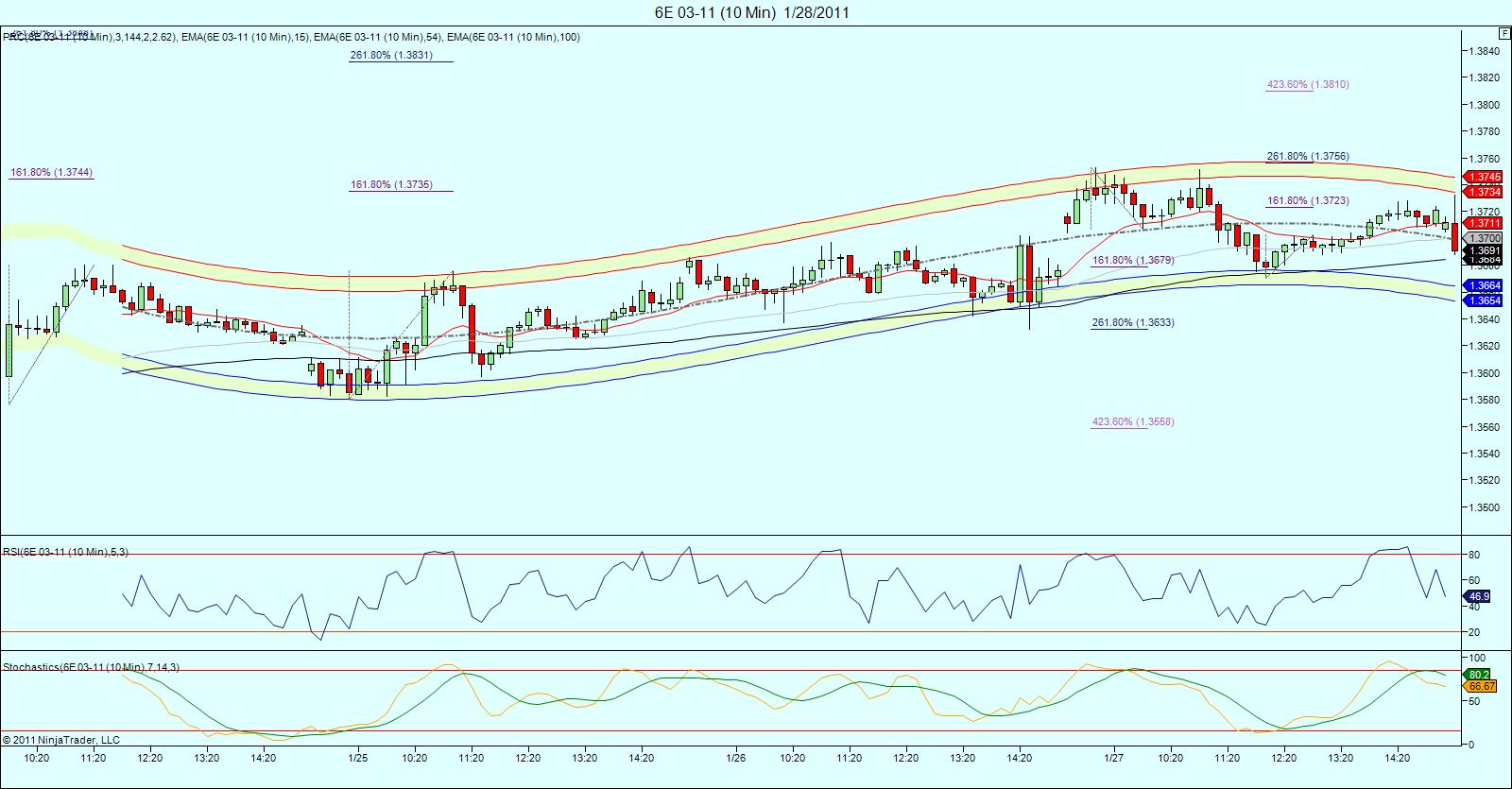 News that will move the euro next week
1) Flash PMI: Monday – 8:00 in France, 8:30 in Germany and 9:00 for the whole continent. They're divided to manufacturing and services sectors. All the purchasing managers' indices are above the critical 50 point mark, meaning expansion, and all of them are expected to remain around the same levels seen last month. It's worth mentioning that Germany's figures are the best – both above 60 points – showing a fast growth pace. French manufacturing is somewhat behind.
2) German Ifo Business Climate: Monday, 9:00. The highly regarded think-tank almost always exceeds expectations and shows positive numbers in its survey of 7000 businesses. This time, the score is expected to remain unchanged at 110.3 points. Any result will rock the Euro.
3) GfK German Consumer Climate: Tuesday, 7:00. This survey of 2000 consumers is on the rise. It scored 5.7 points last month and is expected to edge up once again, to 5.8 points, showing that German consumers are upbeat.
4) NBB Business Climate: Tuesday, 14:00. Despite coming from a small country, Belgium, this is wide survey and it always moves the Euro. After jumping to 4.5 points last month, the 6000 businesses surveyed here are expected to send the number slightly lower, to 4.4 points.
5)French
CPI
: Wednesday, 6:30. As inflation is rising all over the world, also French
CPI
becomes important. After rising by 0.5% last time, a drop of 0.1% is expected now. After a comment on a rate hike from Bini Smaghi, any rise above 0.5% here will rock the Euro.
6) Industrial New Orders: Wednesday, 10:00. The total value of orders is rather volatile. Nevertheless, this indicator shakes the Euro. After a gain of 2.1% last month, the figure is expected to drop by 0.8%.
7) German Final
GDP
: Thursday, 7:00. Germany's growth has slowed down after the superb second quarter. According to the initial release, the growth rate in Q4 stood on 0.4%. This will probably be confirmed now.
8)German
CPI
: Thursday. Each German state releases its numbers at a different time. The composite figure is expected to show a rise of 0.5% in prices, correcting the drop at the same scale last month. After
PPI
surprised and came out double than expected, a bigger rise won't be a big surprise.
9) French Consumer Spending: Friday, 7:45. After two months of neat rises, the consumers in France are likely to show a squeeze of 0.7% this time.
10) M3 Money Supply: Friday, 9:00. The amount of money in circulation is also an important inflation-related indicator. Growth is expected to accelerate from 1.7% to 2.1% this time.
buying small here 3691 keeping a close eye on the low so far could tank...if this support doesn't hold we could be back to 3575 by the NY session
Click image for original size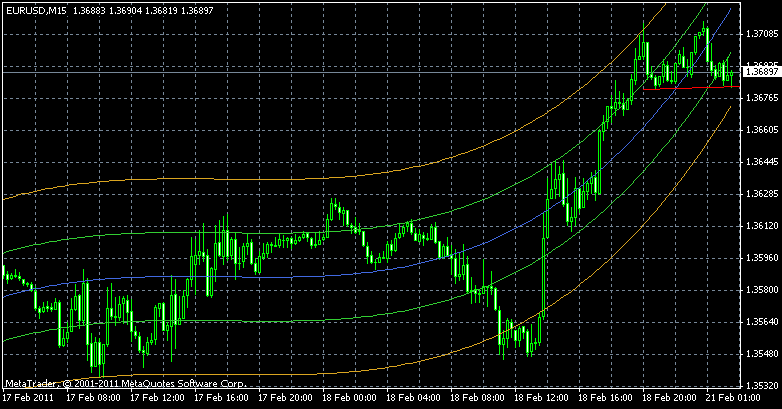 Switched over to short gonna hold this one for a while Oils too much for comfort, bonds are way down
Short 3680 gonna hold this for a little longer looks good for a 100 pips
Major news breaking adding shorts in the eur/usd. Oil's going to the moon
Originally posted by CharterJoe

Entering fridays VA I'm targeting 3555

Looks like they were nice enough to give me 3555 before reversing....+125pips on those.
At $85 billion/month, it cost
Bernanke
a little over $1 million for each job created last month. Well done, professor.
-Tim Knight