CME Euro FX Futures 6E
Red, sorry ,i was already asleep when you posted!.. I haven't had much time to look at it, but the daily chart indicates 1.3826 coming. Cycles are not very clear.... here's a real short term peak (10 min chart).. id be buying anywhere around the lower
prc band
...
Click image for original size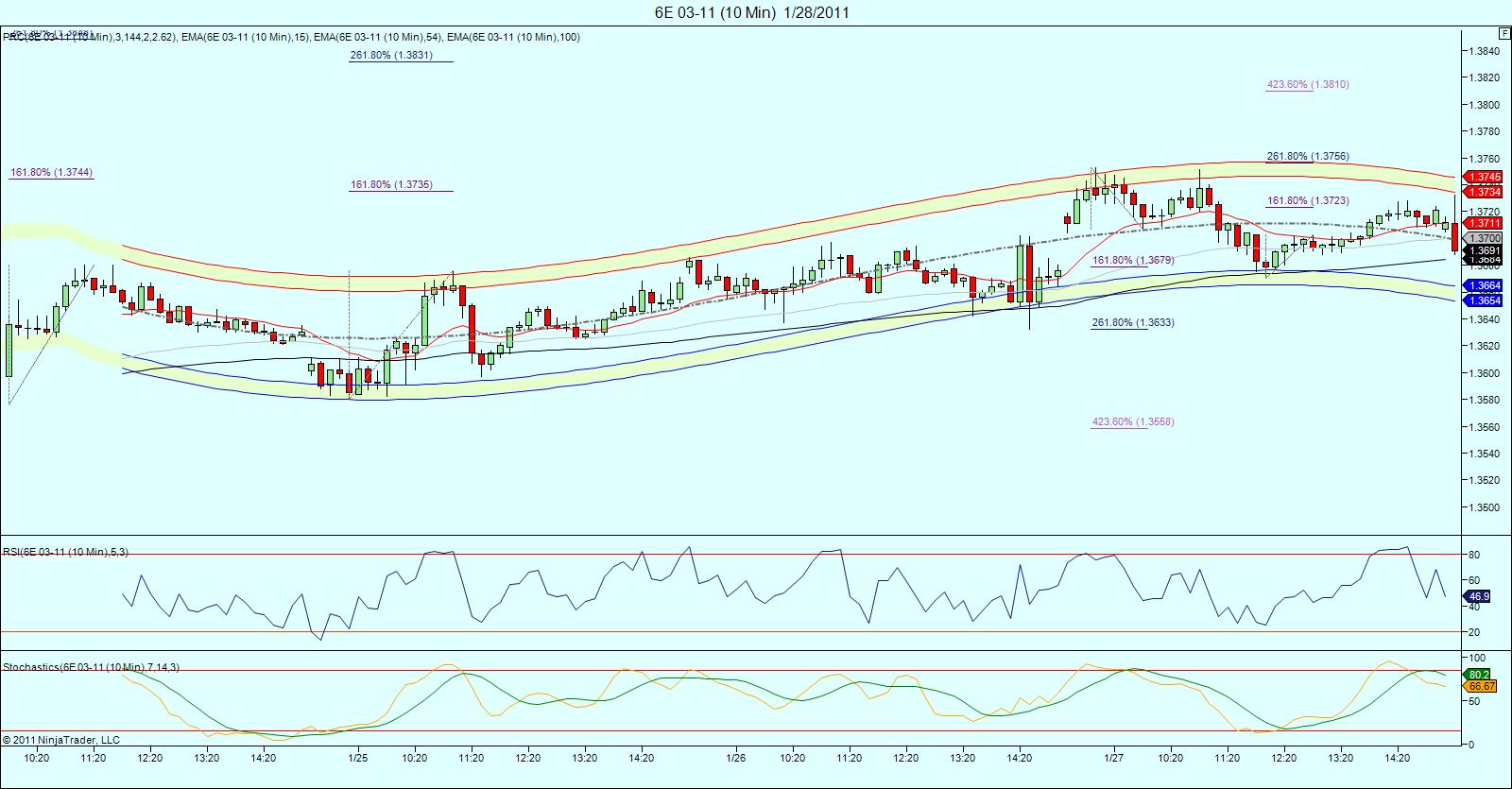 3623, 3493, 3363 are numbers I am looking to
fade
tomorrow. Also been down for 3 days the pattern has been 3 down 3up 3 down so may get a good up swing tomorrow. I still think were heading to 3600 probably 3623 before the stops get cleaned out at 3430 probably Sunday night trading sounds bout right. Any way don't matter one bit to me I have turned 95% scalper. But I am sure these levels will create a few good pips tomorrow
Originally posted by CharterJoe

Red, how long have you been focused on the euro?

===================================================================
We pulled back from that bear signal I posted earlier back down to 1.347, the area I posted I was getting bull signals then back to zero where we stalled and where the market is trading now
Looks like we sold off rather hard overnight after hitting 3570....I think were heading back to the 3505ish area this morining-mid afternoon. The US session loves to take what was given overnight. fwiw the 3570 was on my list as a naked
VAH
on monday
long 3475 limit siting just above 3500
Originally posted by CharterJoe

long 3475 limit siting just above 3500

bailed 3488 +13 on those. The 5min looks like were gonna go down 3 bars
Managed to get 2 days higher value...still looking for 3600, but this is good enough for me I'm fixin' to short for an overnight trade I think were heading down at least a 100 pips by Friday close maybe Sunday evening. Eur/Usd currently 3565
update; We've found some support at 3560 thats the
POC
from yesterday. We have been holding up very well at the highs, not a good thing for the bears. I am curious how this thing with isreal and iran is gonna effect the eur/usd especially heading into the weekend. It seems perfect common sense to me to buy the
USD
for safety I don't know why the
DX
is hovering on its lows 78.28 I thought we would have seen a pop in that and a decline in Euro...but instead we saw a flight to swiss francs??
close enough to 3600 I shorting heavy...gotta make some coffee avg short 3590
At $85 billion/month, it cost
Bernanke
a little over $1 million for each job created last month. Well done, professor.
-Tim Knight