Day Trading with TTT and other tools
Day Trading with TTT and other tools
Welcome to this new thread, where we can share trading ideas and our thoughts on the Taylor Trading Technique.

Anyone with questions on TTT, this is the place.
Today as per the count should be a Sell day, would you consider longs on these days, and how would
price action
today fit into that.
quote:

---

Originally posted by simba

Today as per the count should be a Sell day, would you consider longs on these days, and how would price action today fit into that.


---
Often Sell days can be confusing. Today so far is no exception as we have reached the TTT projection numbers and have declined since, however the decline is weak so far and TVGR is in effect.
An other nice example to show reversals at 3 differents fib extention and a TS4, right at the TTT projection number to the
tick
That decline took us down to the next DP at 826 not a bad trade
Click image for original size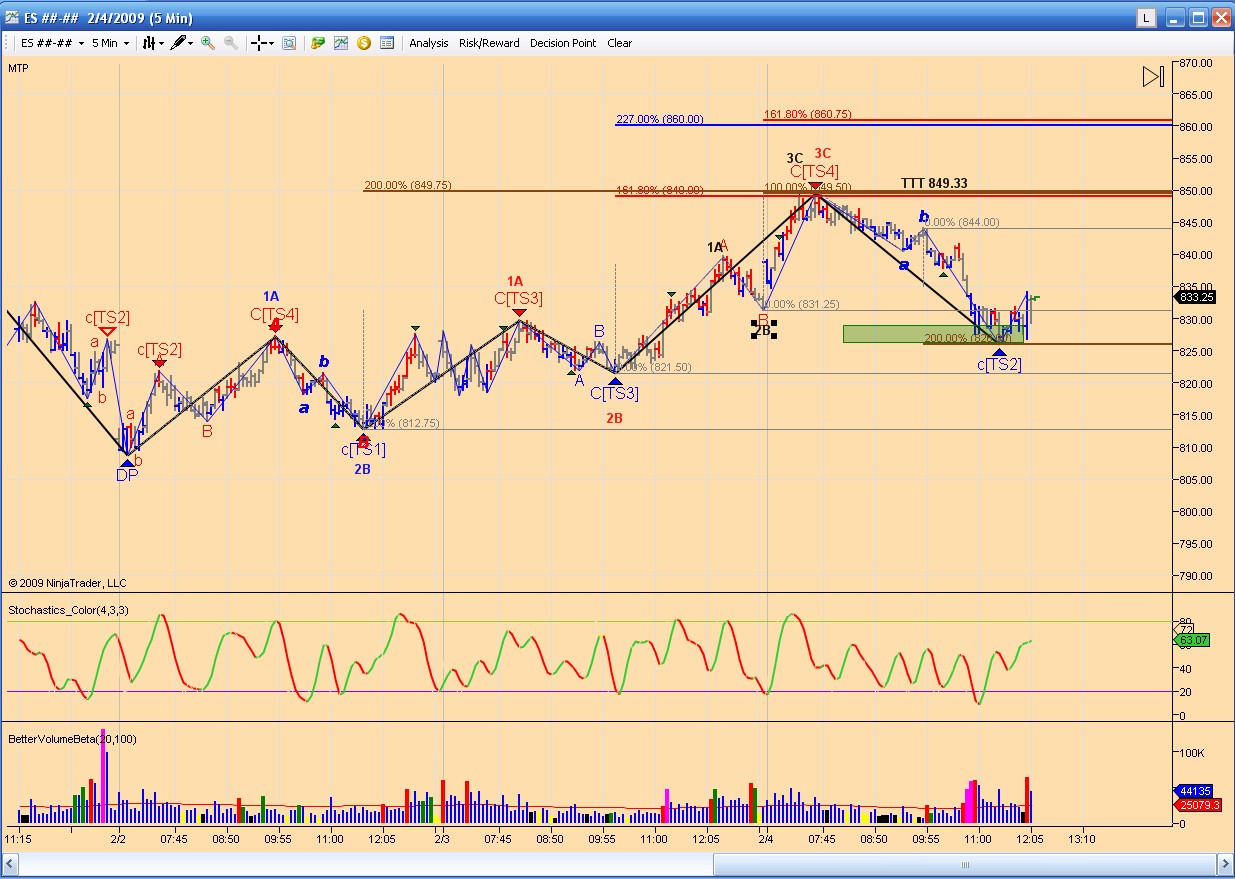 2/5 was a SS day. 2/4 we had a good sell off and the momentum continued today. The markets gapped down tried to rally just to reverse and go test the Buy day lows. We normally should not long on SS day, with just a few exceptions. This trade is one that often works.

We opened at 822.5 and only rallied to 825.50. The Buy day low was at 816 on 24 hour session and 818 on Day session. So at this point it did give us a Positive 3 Day Rally, however it was well below the average of 38 points.

We have a cluster of 3 fibs at 817 to 818 area and the MTP DP. The Buy day low at 816-818. Again we had strong support in that area.

A long could have been taken at 818.25 area with a stop just below the day low of 816.75. A low risk trade.

The market rallied and never looked back until we got close to the previous day high. We also know from the report that the average spread/range for today is 33.32 points. Therefore an exit at 25 to 30 point profit would have been more than acceptable.


quote:

---

Originally posted by MartinU

Does the MTP DP appear right on the close of a bar or sometime after ? Thanks.


---
Depends of your settings you can make it that you get signal while the bar is forming
also you can make your own manual DPs well in advance
Today was a Buy day. The concerns of last night ended up materializing and only a small Decline took place. TVGR took effect and the markets rallied all day. I don't like picking tops on TVGR days but we had numerous fibs at 868.50-869 and if we
add
the average range of 33 points expected for today, 869 ended up being the top for today.
Today was a Sell day. We did make new highs at the projected average rally on either the recap or recap
MA
page for all indexes. The markets then did the usual confusing day pattern of up and down.