Day Trading with TTT and other tools
Day Trading with TTT and other tools
Welcome to this new thread, where we can share trading ideas and our thoughts on the Taylor Trading Technique.

Anyone with questions on TTT, this is the place.
Daxtrader, what gave you the clue to initiate longs at S3 instead of e.g. S2 ?
As Taylor points out this is where tape reading comes in, don't mean time/sales or depth of market etc, it is
price action
,ie. candle pattern plus volume , but not just anywhere as many of the VSA folks do but at relevant
support/resistance
, pivot levels etc.
To look for high probability low risk entries.
Here on the Dax you had the initial climatic drop around 8.20 on heavy vol followed by another drop on lower vol at S3 but this time the prices closed up suggesting buying strength. Ofcourse this does not automatically mean prices are going up, but the odds favour that. In case it does not pan out, the risk for the trade is not that much to worry out if the stop is hit, wait for another opportunity, which comes latter on retracement with
low volume
this time indicating lack of selling pressure.
Anyway have to call it a day,
tomorrow looks like a Buy day violation on a sell day, could provide a long opportunity unless ofcourse they decide to rally the market int he final hour in US
Ok, looking at your charts, I was assuming you were taking VSA setups into account. Just wanted to make sure whether there was also a reason to go long at S3 vs. S2 as per the Taylor strategy.
In Taylor's method, there is no mention of pivots or trendlines or technical analysis as such for entry/exit etc.
His various levels are based on declines, rallies, penetration, violation etc which Richbois has incorporated in his spreadsheet and plotted on his charts. That is strictly Taylor, places to look for going long or short depending on the day.
However in this day and age, on intraday basis, other tools can be employed to fine tune your trading. I find pivots, trendlines, etc useful, Rich uses stochastics I believe (as per his charts) plus wave counts, extensions, DP etc. I don't use those, so it is what you are comfortable with and tested for the instrument you trade. VSA is useful but not the way it is promoted and marketed , There is more on that on this link:
http://www.traderslaboratory.com/forums/f151/vsa-volume-spread-analysis-part-ii-3428.html
Richbois, could we say today is the TVGR effect like yesterday except in reverse. If so is it o.k to go long.
quote:

---

Originally posted by simba

Richbois, could we say today is the TVGR effect like yesterday except in reverse. If so is it o.k to go long.


---
TVGR is in effect However today is one of these confusing days.
So anything goes as we probably will be cycling up and down all day with a bias to the upside.
Lets not forget that it is also window dressing quarter end. Good timing for it to be on a Sell day.
TTT nailed the high for today as we had a cluster of TTT levels and a nice MTP signal to go with that.
Click image for original size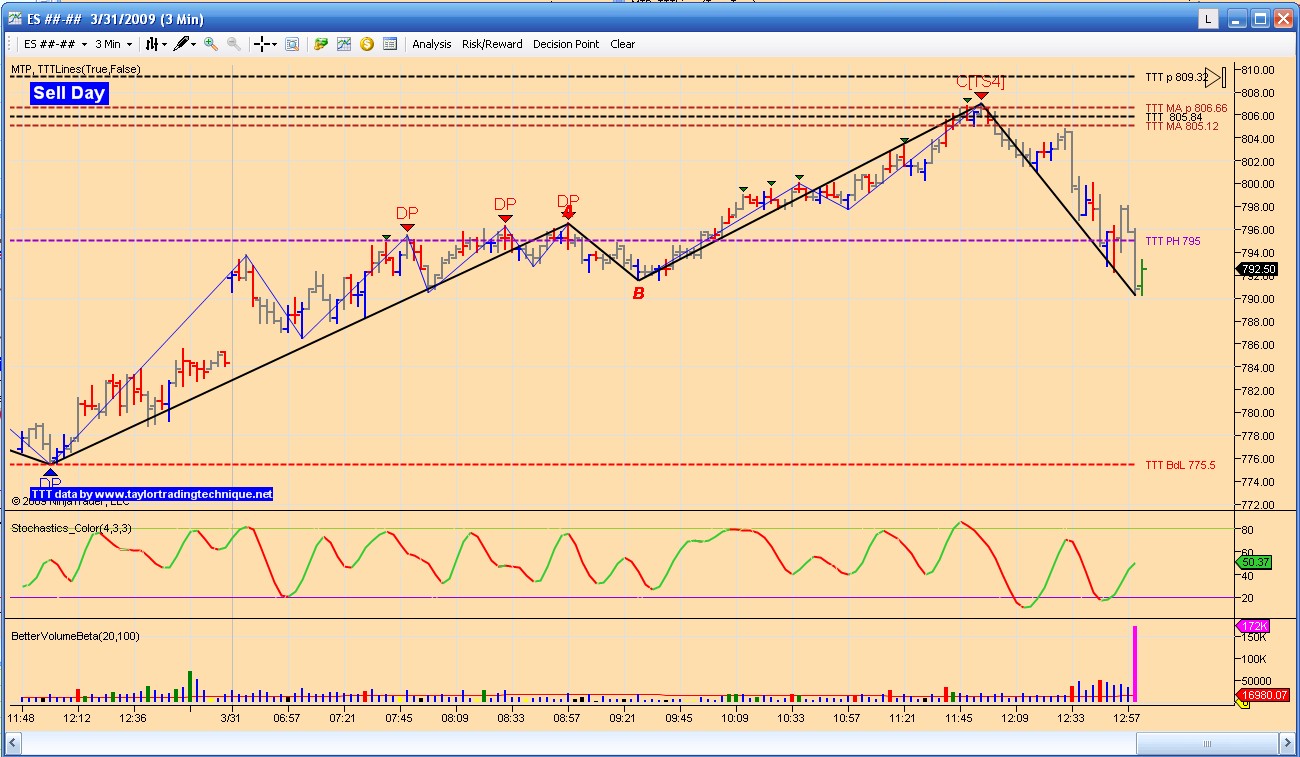 Today was a SS day. As mentioned in last night's email the 3 day rally was small so we had a good chance to go revisit the highs. Today's highs were right at the TTT levels for an average 3 day rally.

This is one of the few exception to the no longs on SS day.
as rich knows cause we were talking live today
i tried to short early because of some other signals i was getting to short
well, suffice to say , i got a nice haircut trying to
fade
rich's ttt on sell short day
his commentary was dead on and rich's ttt was spot on
nice job rich
Rich, you say 3 day rally was small, thought 3 day rally was measured from buy day low to ss day high, but here we are talking about it before the end of the SS day. somewhat confusing.
I hope all you TTT traders had a good 2014 and I wish you all a better 2015
Richard