Day Trading with TTT and other tools
Day Trading with TTT and other tools
Welcome to this new thread, where we can share trading ideas and our thoughts on the Taylor Trading Technique.

Anyone with questions on TTT, this is the place.
quote:

---

Originally posted by mlomker



quote:

---

please dont think im trying to sound like i know it all cuz i don't

---



I'm always curious about how people are actually deciding to 'pull the trigger' based on TTT numbers. Rich provides a great resource with the spreadsheet but in itself it's just a bunch of numbers. Picking an entry, managing the trade and money is where the rubber meets the road.

That's why I post my ideas on my blog (and occasionally here) because I think there really are some 'missing pieces' when you're trying to learn how to trade, which I am.


---
IMO
with all pivot levels including TTT, fib, daily pivots, etc and momentum indicator divergences gaining entry, placing stops, managing trades is a different ball game ie. as you put it how to trade.
You could achieve that by reading volume along with price spread, which would yield info. on buying and selling pressure, however this is a separate study in itself. ie. Wyckoff.
or you could just go by
price action
and in this respect, get hold of the latest book by Al Brooks "
Reading Price Action Bar by Bar
", it is a gem and choke full of insights for intraday traders.
Good luck
Also effort has to be made to study Taylor to understand the fundamental concepts and then focus on the main play for the day. However there would be ideal days and not so ideal days and Taylor has rules to adopt to that. This along with couple of suggestions made in the previous post should make a difference to your trading.
BTW Al Brooks is more like a textbook and hence would require a study over time.

Both Dax and Ftse sold off project my projected penetration high and rally high on a SS day.
Click image for original size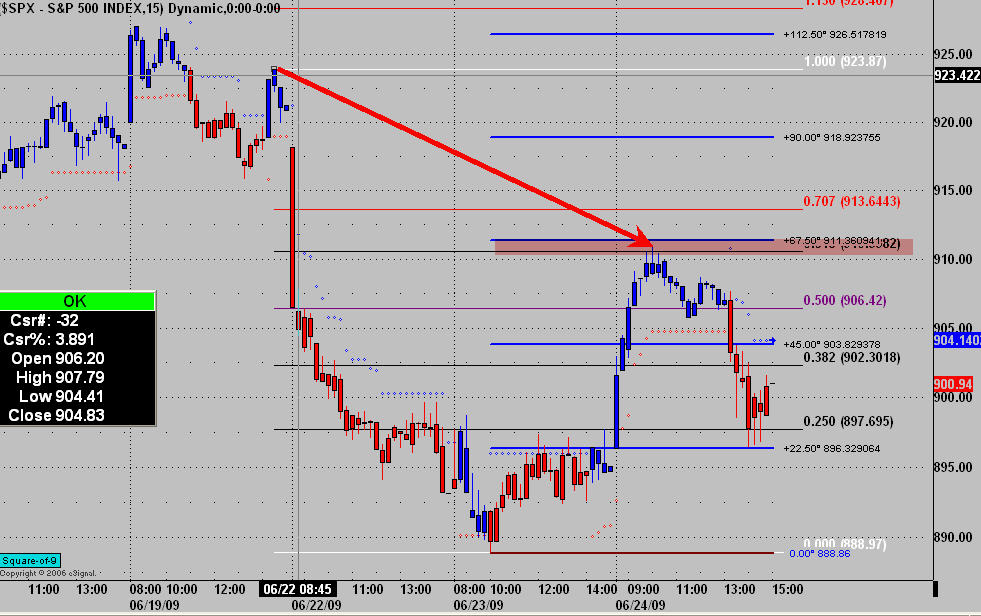 larry - on the spx i had a fib retrace of .618 from high of 923.87 to low of 888.97 at 910.49 and sq level from low of 888.9 at 911.36
if my
elliot wave
is correct, fib .618 is typical for wave 2
now, i then matched that up with rich's ttt levels and decided to do battle in that area
regards
Taylor is unreadable initially but with effort the concepts come through.
whereas Al Brooks method is the simplest of the lot, only a 5min chart with 20ema, however, he has zoomed onto this strategy after years of going through almost every indicator/timeframe etc out there. So he is able to visualise what is occurring on both the higher timeframe say 15-60min and 1-3min charts by looking at patterns on 5min. There are 15 chapters and each could take a while to digest.
But eventually you should have the knowledge "How To Trade" because there is everything on when to enter, where to place stop, how to manage the trade etc.
Don't think you should require any other book.
Go to the link on the Trader's Laboratory website as there are some excellent videos and articles of Al Brooks that you could download.
http://www.traderslaboratory.com/forums/104/futures-i-trade-show-brooks-book-6008-8.html
BTW
ES
is just within 1pt of the projected level 919.
Do you think BWT with TTT has better signals than MTP?
quote:

---

Originally posted by jcflaw

Do you think BWT with TTT has better signals than MTP?


---
I never reliably got signals from MTP realtime in the vicinity of the TTT zones. I know that Rich shows some pretty looking ones on his chart but despite trying identical settings they rarely plotted for me.
MTP RT does have a tendency to plot a 'trend line' at the likely turning point within the TTT zone. That seems quite useful. I like the BWT natural bands since the trades generally occur at or outside of the outermost band when they work.
Lately the projected target levels/objective levels have not been reached in most markets, was beginning to wonder if updating the book daily is at all necessary to trade with the basic strategies of Taylor especially in view of the onus on intraday trading in this day and age.

However, Today a Sell day, Emini premarket has hit the projected low around 907
I hope all you TTT traders had a good 2014 and I wish you all a better 2015
Richard