anyone trying shorts??
Up here at 845
ES
....
S&P
is holding back this rally today...where the HECK is my plus or (hopefully) minus 8 - 10 range? has everyone gone to 24 hour trading???
I got 46.25 and 49 .50 and not liking it this late on a pre holiday......no true signs of weakness yet
interesting switch of leadership....why didn't
NQ
get very far outside of hour high.......anyone else having data problems today.......strange at
IB
today
we got a 30min. close above that 30min
doji
from 10am edt / that might
be helping to hold us up
I bought some
SPY
Apr 86 puts on close today @ 1.75 looking for 1 point, thats about
ES
830. I do not like option trades this late in the week this close to expiration so will probably settle for 1/2 a point.
Look at that 30 min bar at 12:30 EST......1.75 point range over a 30 minute period...that needs to go on the radar.....WOW...
quote:

---

Originally posted by redsixspeed

we got a 30min. close above that 30min doji from 10am edt / that might
be helping to hold us up


---
this is suspect to me............interesting day yesterday in the market......it was higher by 30 points.........two thirds of that ( 20 points) move happened in the overnight session and it took only 1.5 hours to move that far.......the other third happened during the day session and took 6 hours to move 10 points.......this is not the way I like to see good rallies...opinions anyone??
I thing there is a some kind of strategy going on here, I call it mid knight runs there large number of contracts trade it during the wee hour of the day, I'm on the west cost and I get to my desk top at 5.30 and by that time all the good runs are over.
I don't know that is what I have knottiest lately.
Note: the hour on the
NQ
Click image for original size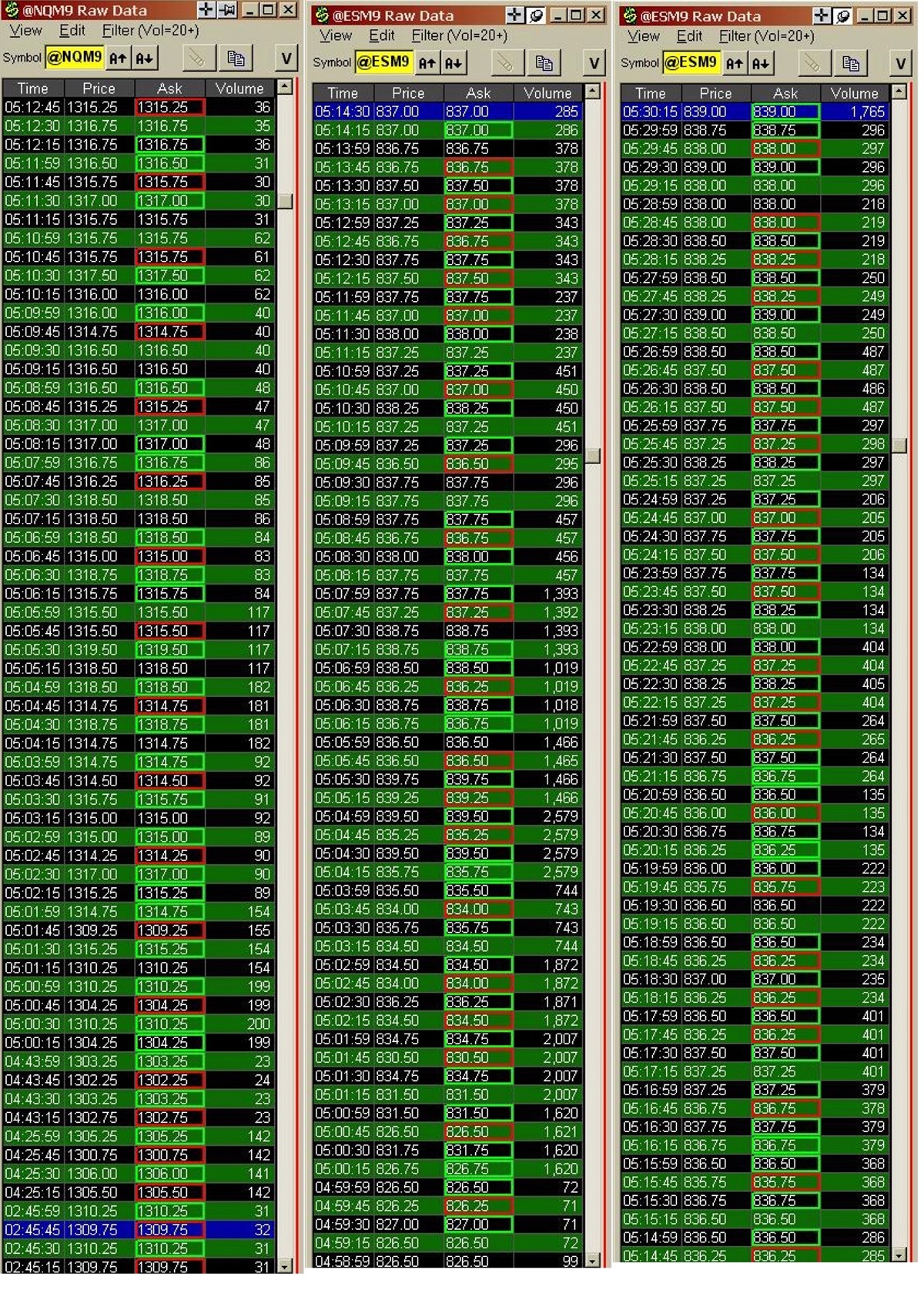 quote:

---

Originally posted by BruceM

Look at that 30 min bar at 12:30 EST......1.75 point range over a 30 minute period...that needs to go on the radar.....WOW...

quote:

---

Originally posted by redsixspeed

we got a 30min. close above that 30min doji from 10am edt / that might
be helping to hold us up


---




---
yup; also watch the hi/lo of that 10am
doji