anyone trying shorts??
Up here at 845
ES
....
S&P
is holding back this rally today...where the HECK is my plus or (hopefully) minus 8 - 10 range? has everyone gone to 24 hour trading???
could you give a brief explaination when you have a chance red....I see a bar that closes on it's high with good range followed by an inside bar...good volume too!
quote:

---

Originally posted by redsixspeed

in candle theory that high volume 5min. bar @ 3:40edt
is distribution


---
interesting how the ask volume surged on that
VWAP
hit...don't mind me..I just use this place as a journal sometimes
and the
single prints
....very cool....u get the trade of the day award joe.....a real beauty!!! was that based on your
RSI
work??
30 minute has some interesting bars...two outside bars and the highs....hope u guys enjoy the weekend....always a pleasure!!
Click image for original size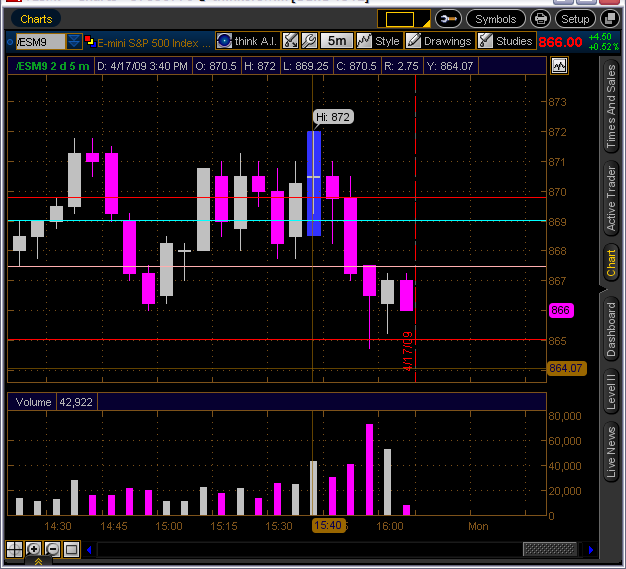 At a high price area big volume and little price
movement = distribution and should be viewed as
topping
quote:

---

Originally posted by BruceM

was that based on your RSI work??


---
Yes, every single trade I make is based on 30min
RSI
, thats why I wanted to devote a thread to it cause' its just not for long term trades. I watch every
tick
the
RSI
makes, watch it bounce off old lows/tops, follows a trend line like a dream, "W" and "V" tops and bottoms it works really well.