anyone trying shorts??
Up here at 845
ES
....
S&P
is holding back this rally today...where the HECK is my plus or (hopefully) minus 8 - 10 range? has everyone gone to 24 hour trading???
if we get a 30 minute close below the open I think they will try for the lows again....big " if" on a
low volume
pre holdiday trading day
still no 30 minute close above the
RTH
of thursday...so that isn't good for longs.......just watching now!!
Bruce I understand what your saying; but with the data issues I have been having I got
alittle excited when you posted we opened inside the
VA
...lol It makes me kinda shy
when the data has given a problem. I begin to question everything...thanks for the help
quote:

---

Originally posted by BruceM

why specifically did you have the 82 MM..? I had the va low at 82.50 and the obvious minus 8 as you said......that was a classic MP trade...we opened in Value so they will look to buy the VA low...just an FWIW


---
882 was a
price action
S/R level
I'd drawn. It can best be seen with a chart example ... looking at intraday data, a 5min chart in this case. Also, this morning, noticed mypivots had the
VA low
calc. there. (and though I don't use fib much, yday's low to morning's highs (
RTH
) subsequently showed apprx 882 as a .618 rtc.)
Click image for original size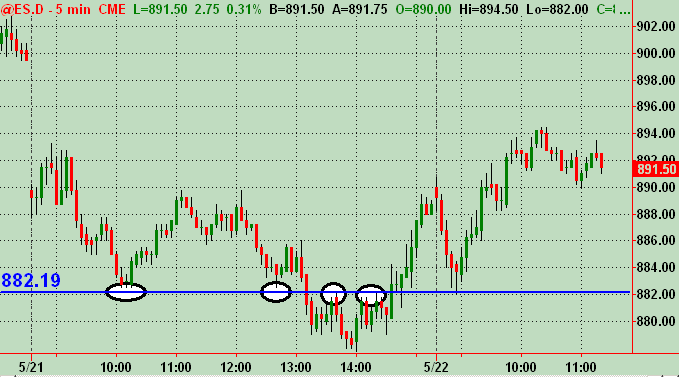 Hey Bruce, feel free to kill off my above posted response to you once you've seen it ... otherwise it just takes up space with that chart stuck in there ... and would detract from the thread anyway!
I think it adds to the thread and I'd like to leave it if it's ok with you?If that inverted
head and shoulders
pattern works out it would taget up at 900 or more....close to the plus 10....interesting......thanks
MM
...intraday
volume profile
showing the "P" shape...which many times does nothing more than show consolidation at high prices...then the question to answer is " does the market accept these prices or will it reject them......? my quess is for rejecting them and selling ...more stocks seem to be downticking is the reason for my quess and a slight
YM
lead higher....so I don't expect 30 to lead 500 for long
meaning that I never expect to have 30 dow stocks lead higher over the 500 of the
S&P
...it obviously does happen at times and then we simply lose due to our bias....plain and simple...comes with the turf...we can't bang on the open/
VA high
for too long.....if P formation works then they will at least test the
low volume
at 886...and further
I need to brush up on
MP
again to drill down more into the details and nuances ... was pretty familiar with it a number of years back. What book or online thingy have you seen as the best for application in your own trading Bruce. I've hit a number of sites and read most of the online stuff that I've been able to find. Then again, there are different interpretations for implementing it most effectively. Don't have anything really useful on it in my library. Lemme know your thoughts mister!
I'm not bruce but....
Mind over Markets
is the best book I have read on
MP
. I have it all marked up and tabbed/highlighted its not even a year old and I have read it at least 30 times.
its actually under my key board
Thanks Joe ... got the book on order as well as a couple of others. Much appreciated because it's been so long since I delved into
MP
about 10 to 15 yrs. back. I'll read mine at least 30 times too.