anyone trying shorts??
Up here at 845
ES
....
S&P
is holding back this rally today...where the HECK is my plus or (hopefully) minus 8 - 10 range? has everyone gone to 24 hour trading???
I think they want that low of last week and then the 912 - 913 break out point...not today though on the 912.....good luck on those puts...looks lika a real "keeper" to me
out of half of my puts with
ES
at bouncing around at 929 area ... tightening up stop on rest
ES
was reacting off daily S2 ... and still have in mind Monday's run up and a bit of a run up that I had
SPY
calls for as a day (or more) trade that I covered each day (option day trade on
SPY
). I still see potential of 926-923 today ... but, again, the pm in recent days has run up off of any lows ... was looking for more of a precipitous fall/plummet in price. Will hopefully make some on the 2nd half of position ... may even peel out of half of that around 926 and hold a quarter of initial position.
hit 927...one
tick
from hourly proj which was 926.75...it must now be considered fullfilled
Another reason I covered ... 60min chart got down to where a potential
H&S
neckline (trendline) was in the 929 price area. Out of rest of put position with
ES
trading at 931.
Click image for original size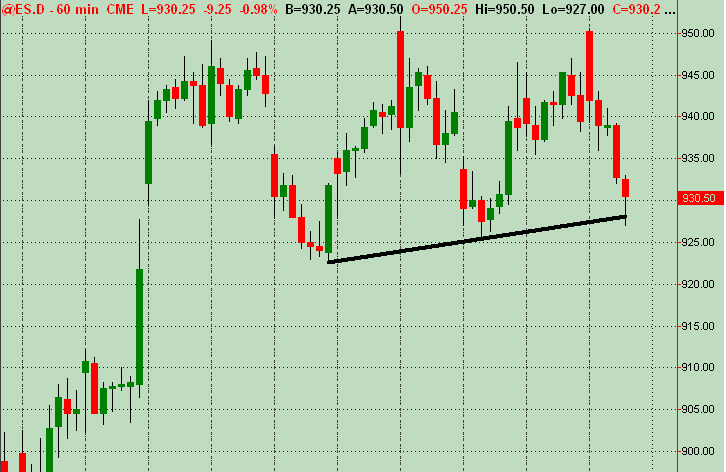 could be considered a
triple
top ... espec considering the highs overnight. Then again, we're in a trading range, albeit only a week+ on the Daily, and traded down to the low end conciding with the 920's. Just more observations.
33 - 35 is the break down point so this is what us sellers want to see hold now on this push up..
many times they will try and fill in the second set of singles on a day which actually has the fill in point near 36.25