anyone trying shorts??
Up here at 845
ES
....
S&P
is holding back this rally today...where the HECK is my plus or (hopefully) minus 8 - 10 range? has everyone gone to 24 hour trading???
Something very interesting about this
$vold
, this is what trend days look like. That is very very few bars crossing the previous bars hi/lo. You can spot a trend day VERY quick with this.
Click image for original size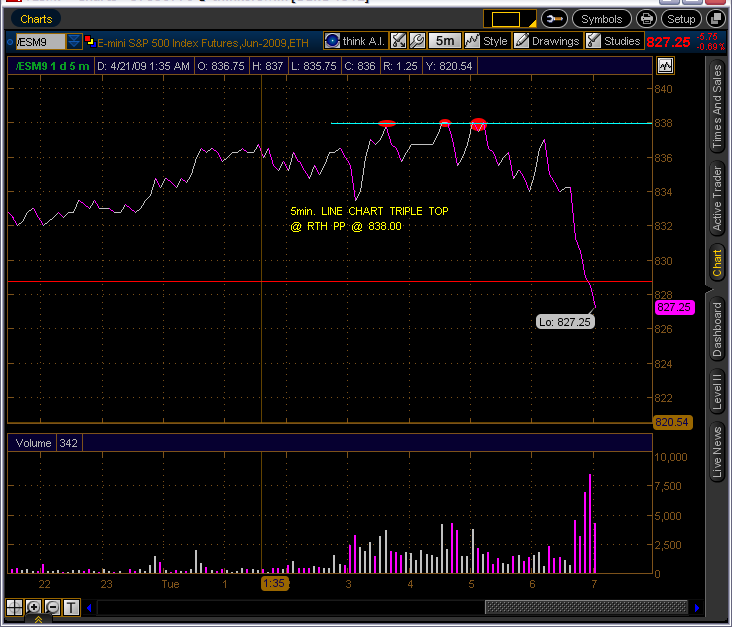 If the 827/826 area holds as support the
triple
top
@ 838.00 from this morning may be resistance
I sold into the hit on 846.75.....after my good buddy SPQR was calling for his double top at 841 to drop to 813....can you believe these folks ? That explaination...WTF...!! It just kills me these forums sometimes...the attitudes some of these paper folks have.....anyway it's fairly obvious that I don't enjoy or understand what he is saying...sometimes I think it's a language barrier....his posts....I have some
Tick
divergence
and key numbers at 47 - 49.......target is down near 43 only as this is late and we had good volume on this push out..new highs near 47.50 will take my money on this one...
ask volume has dried up at these highs...just part my ongoing journal.....failing big time in my interpretation of Bid ask sentiment
took three off at 43.75....stop at break even on runners just in case they aren't gonna go get that
single print
area
two off at 41.75..have only one now.....will try to hold for 39.50 as that is high volume price on the day..trade back to 45.25 stops this one out if I'm wrong...

Nice test of the 841 double top.....LOL..couldn't resist...More obnoxious than usual today
flat at 40.75...getting out in front of the
POC
of today...good example of volume attracting price
can someone tell me what this means ?
"Wicked price rejection testing from the top 37 of a Venus trine didn't see a
moving average
at all on the breakdown and climbed the 377 like her name was Coco Channel."
Looks like I got off at the wrong planet today.....
Venus trine Mercury, Pluto conjunct Ascendant, Saturn square Pluto happened at the low of last October, the turning point of the trend, within 5 days of a full cycle putting it well within variance of a full-on price to time squaring, and the only
pivot point
that matters below 1586.75.
Bruce, you suck hard arse.